The sport of horse riding is in its infancy here in Sri Lanka. But it seems the sport in itself has been in the country for a long time and at present there is growing enthusiasm to learn horse riding.

Upon having witnessed the Ahungalle Dressage last weekend I thought it best to find out more details on horse riding and stumbled upon the Premadasa Riding School in Nugegoda which happens to be the only horse riding school in the country.

"We started in the year 2000" says Suranjith Premadasa, Chairman, Premadasa Riding School. "When I was a student at around the age of 17, I had a three quarter bred horse as I always wanted to have my own horse," he says, adding, "After graduation in England though I went in to motor racing and I reached the top."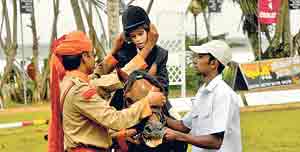 Action at Ahungalle dressage.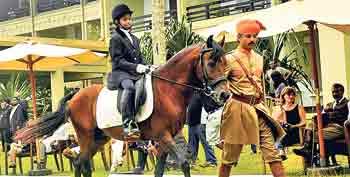 He went on to say that he has won in major motor racing events in Sri Lanka. "I then decided to retire and went in to one horse power speed," he quips, "Which was horse racing." His two daughters have also learnt to ride horses and one of his daughters Prameesha Abeysekera was the winner in Group D at the Ahungalle Dressage which was held recently.

When he started off he only had two horses to ride in his paddocks but it has now grown to 30. They have also started breeding their own horses of which the Marawari horse is notable. This breed is specialized in endurance races, indigenous to India and they are exported only to Sri Lanka.

"Sri Lanka had exported horses in the early days but we have not improved in the sport of horse racing," Premadasa says, stressing, "To improve equestrian sports there must be an improvement in horse racing."

A step in the right direction was made in 2003 when the Sri Lanka Equestrian Association was launched. There are also a number of clubs around the island, namely -- The Victoria Saddle Club, Kandy, the Heritance Equestrian Club, Ahungalle, the Kandalama Equestrian Club, Dolphin Riding Club, Waikkal and Riverina Equestrian Sports Club.

The riding school currently has a membership over 700 out of which 80% of the members are female. When it comes to horse riding, you can either ride for leisure or competitions, he says adding, "Our motive is to promote horse riding and go international." In February 2008 Sri Lanka took part and completed a 60km endurance race in India on borrowed horses.

From now on they plan to organise four events a year, where there will be three events for the championship and the highest three competitors will be in the championship. The riding capacity is graded from A to D with the higher categories being Group C and D.

They are trying to promote endurance events which can be seen at the Asian games as well as the Olympic sport of dressage and show jumping.

"We have the ability to participate in endurance races," Mr. Premadasa says, adding that they are still starting to compete in terms of the dressage event. "We are also trying to start horse polo and I have trained six horses for this," he says.

The second leg will be on August 29, 2009 in Waikkal. Kandy will host the third leg in October while the finals will be at the Premadasa Riding School in Nugegoda in December.

The racing years for horse are between four and five years and a child as young as seven can start horse riding and hopefully progress to racing as well. "There is a lot of enthusiasm for horse riding," Premadasa says adding that a lot of hard work goes in to becoming a good rider.

One of the judges for the Ahungalle Dressage 2009 was from India – Colonel Sarpartap Singh, Secretary of the Equestrian Federation in India, while the other judges were Philippa Mediwaka and Faizal Ghany. The officials for the event were David Bolling, Ravi Jayasinghe, Chamin Wickremasinghe, Nimal Sangakkara, Asitha de Silva and Lucille Dahanayaka.