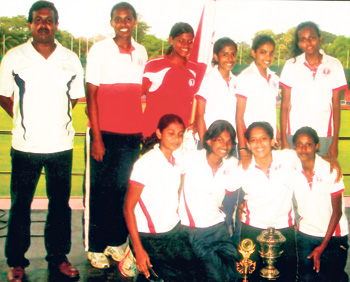 L/R (standing) Coach Mr. Thanthirige, Dhanushika Fernando, Chelsea Gunarathna, Lahira Soysa, Oshadi Seneviratne, Tessi Sathyanandan. L/R (seated) Dhanushki Perera, Kanchanika Gunawardena (Vice Captains), Meara Algama (Captain) and Shalini Siriwardena (Vice Captain)

.
Ladies' College emerged the overall champions at the Western Province athletic meet securing the Senior Championships in the U17 and U19 categories as well.

In this very competitive arena their 4x400 relay team established a new meet record. (4:11:2) the victorious team comprised of Dhaukshika Fernando, Dhanushki Perera, Shalini Suriwardena and Tessi Sathyanandan.

Despite the fact that they do not have a large school population, Ladies' College have emerged champions in the Circuit and Zonal Athletic meets continuing this winning feat for the 4th consecutive year.