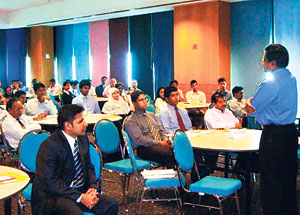 Today, Sri Lanka has found itself in the middle of a murky international and local financial crisis. The combined effects of the global turndown are expected to affect businesses due to lower demand, profits, economic activities, etc. The financial crisis also questions lax ethics and principles and calls for firm values, management and professionalism. 'Ethics, Professionalism and Risk management comprised the very imperative workshop at the HNB Towers organized by the ACCA Student Committee on 26th of April 2009.
"The strength of a chain is the strength of its weakest link" was a very thought provoking abstract highlighted by Mr.R.Theagarajah, CEO OF Hatton National Bank during his discussion on Professionalism and Ethics as the key note speaker at this workshop. Mr.R.Theagarajah underlined the importance of being modest and trustworthy which ultimately takes charge of your professional career. He emphasized on taking charge and not giving up hope in pursuit of capitalizing on opportunities for a career. He stressed how people who obtained an extra edge through networking and developing personality, getting themselves hired into an organization from a talented pool of people. He also focused on inculcating strong values and exercising team building, as vital aspects of developing leadership in an individual. Mr.R.Theagarajah also drew valuable insights into his practical experiences of instilling ethics and values while working and developing at various organizations spanning his career in UK, Europe and Sri Lanka.
Mr.Theagarajah's speech was followed by an enlightening discussion with an eminent personality focusing on how the global financial crisis took place and what its implications were to the world and Sri Lanka. This session was moderated by Mr.Dilshan Rodrigo, AGM-Risk & Compliance, HNB. He noted the importance of risky mortgage products in achieving the unprecedented global down-turn and how it lead to the collapse of major banks and insurance companies.
He stressed on how American financial institutions had no strong footing and how they depended on the basic premise that "any real estate investment is a good investment". The combined effects of the crises are expected to affect Sri Lanka's exports and remittances, tightening of banks and vulnerable companies facing cash flow problems. Mr.Dilshan also highlighted how the IMF bailout package was the light at the end of the tunnel and what it meant if it would come through to Sri Lanka.
Mr.M.P.Jazeel, Manager - Treasury middle office, HNB, talked to the audience on effective treasury management for companies. The discussion highlighted theories and examples of the types of liquidity management, foreign exchange management and risk management. Mr.Jazeel then emphasized how hedging techniques could minimize/reduce company's financial risks, if effectively managed Through his years of experience carrying out treasury operations he explained the bank's practice on futures, derivatives, forward contracts and interest rate swaps. Mr.Jazeel rationalized the theory on effective treasury management described involving the participants using numerous examples from day to day operations.
The discussion session concluded with feedback from the participants and speakers about the key learning points from the workshop which was organized to add value to the participants' knowledge in their subject areas. Improving skills and value of the student community by facilitating discussions and workshops of timely and relevant topics, remains a constant commitment of the ACCA Student Committee.