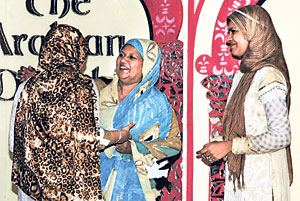 Chief Guest Mrs.Ameena Mushtapha, giving away prizes and also in the picture is President IIOGA Mrs Farzana Mustaqdeen
The "Arabian Dazzle"- the Benefit show hosted by the Old Girls of Ilma International Girls' School was a pleasant experience for me. I'm sure others who were fortunate enough to be there would also agree. The "Marine Grand" was decorated to complement the Arabian theme, and I was greeted with warm, aromatic Arabian coffee and delicious chocolate coated dates .
My morning continued to get better as I was entertained by Arabic songs .I was spellbound as one after the other the events started to unfold before me. Being true to its theme we were taken on a magic carpet ride to the centre of the Islamic world and the birthtplace of Prophet Muhammed (sal).
There was an insightful presentation of the Ka'ba throu with rare images through the ages,which I had the pleasure of witnessing. Aroshi ( Salon by Aroshi), provided useful self grooming tips throughout her demonstration which I paid close attention to. I made a mental note of many important points that I need to pay attention to when buying cosmetics.Glimpses of notebooks and pens confirmed that many others did the same. . A comic rendition of "Troy" where Helen was abducted by the Trojan prince Paris, bended us double with laughter. Membersip has its privileges; this was well in mind when the the new membership card was launched at the Arabian Dazzle.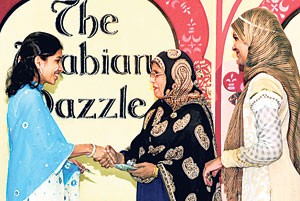 Principal Ilma International Girls school Mrs. Deen giving away prizes
This was followed by a glamorous display of the atest Indian trends by Khazana which left the audience enchanted. There were many opportunities for everyone present to win exciting vouchers from Odel, Colombo Hilton and The Mount Lavinia Hotel, to gift packs from Revlon, Abdeen Jewellers and Khazana and many more.These were given away by the Chief Guest Mrs Ameena Mustapha and the special invitees. None of us walked away empty handed, as gift vouchers from Abdeen Jewellers were handed to all, together with other discount vouchers. Even the short break provided within the programme for refreshments proved to be enjoyable as we were served with tempting delicacies.
It also gave me a chance to shop at the various stalls set up at the venue, and have my palms decorated with mehendi. The event concluded on a happy note and I walked away amused and pleasantly diverted.
Events as hefty as such, require assiduous organization, flawless execution and unremitting work around the clock. At this, the members of the executive committee of the OGA have excelled. 'Not bad', one would say, for half the committee members live a pretty hectic life, mothering children, having social obligations to fulfill, deadlines at work, and assignments at college! Despite all of this, the past students of Ilma reunite for just one reason, to nurture their beloved Alma Mater.