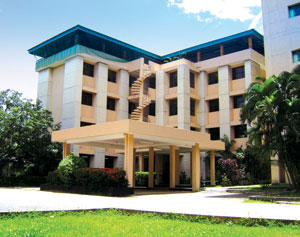 The university education system in Sri Lanka, now comprises 15 universities operating under the University Act No.16 of 1978 and 16 undergraduate and post graduate degree awarding institutions which come under the purview of the University Grants Commission (UGC), as per a report issued by the Central Bank of Sri Lanka in the year 2007. Apart from these, a large number of private institutions, in collaboration with foreign universities have been given Board of Investment (BOI) approval to offer degree programmes in Sri Lanka.
These institutions cater to those who are unable to enter a state university in Sri Lanka or cannot afford to finance university education abroad. The existing higher education system in the country faces serious problems due to both its quantitative and qualitative limitations. In this light, increasing private investments in university education could produce greater benefits including enhanced access to university education.
With this in mind, the Institute of Technological Studies (ITS) together with Oasis Hospitals plan to facilitate Saint Theresa's Medical University (STMU) located in the West Indies, to conduct its medical degree programme in Sri Lanka. The MBBS degree conferred by Saint Theresa's Medical University is accredited by the Accreditation Board and Council and the Ministry of Education of Saint Christopher and Nevis. In addition, this qualification is listed within the United Nations Education Directory as well as in the International Medical Education Directory on the Educational Commission for Foreign Medical Graduates (ECFMG) in the USA.
This enables STMU medical graduates to study and work in USA, Canada, Australia and New Zealand on completion of their respective qualifying examination. The STMU medical degree is also listed in the World Directory of Medical School database by the World Health Organizations (WHO) as overseen by the University of Copenhagen enabling STMU medical graduates to study and work in UK, India, etc..
Dr. E.M.S. Edirisinghe, President of ITS and Oasis Hospital had this to say about the medical degree programme.
"Students who complete the STMU medical degree will have to sit for the ERPM examination conducted by the Sri Lanka Medical Council in Sri Lanka in order to receive the Registration to practice medicine in Sri Lanka. ITS together with Oasis Hospitals is using this mechanism only because we still have not been successful in obtaining the degree awarding status for Medical Sciences in Sri Lanka. Oasis Hospital is approved by the Board of Investment as a teaching hospital and was built by the ITS in the year 2000 with the intention of setting up a private medical college.
Oasis Hospital from its inception has grown to become a multi super specialty hospital which is located in the healthcare hub of the Colombo City and today has established itself as the pioneer in personal healthcare. ITS with the approval of the Ministry of Higher Education was established in the year 1984 and is the oldest private institution of its kind in tertiary education in Sri Lanka and is approved by the BOI to conduct degree programmes offered by foreign universities in addition to the degree awarding approval under the amended University Act".
The STMU medical degree will provide Sri Lankans with a much more transparent opportunity to obtain a cost effective medical degree in Sri Lanka. The STMU, Colombo sub campus offers a world recognized medical degree programme within a 4 ½ year duration period and STMU will invite the Sri Lanka Medical Council to evaluate the progress continually .
This will also be an excellent solution to compensate for the shortage of doctors in the country as well as abroad whilst also providing an ideal opportunity to many who have been left out of the state university system to gain a medical degree.
"This I feel is a long outstanding initiative that should have been taken many years ago. Since the establishment of ITS, we have been trying to expand our services to many different areas, but due to certain limitations we were unable to fully develop the private university system in Sri Lanka. Today there are many educational institutions offering unrecognized degrees who swindle the country's money by indirectly sending money to foreign countries by charging exorbitant fees from students. At ITS we have always offered international education that pave the way for highly employable qualifications by both local as well as international industries", further stated Dr. Edirisinghe.
The minimum entry requirements for the STMU medical programme will strictly adhere to the UGC system which includes the completion of GCE Advanced Levels in biology with the minimum Z score for the study of medicine acceptance to the UGC. Other alternative entry qualifications include the completion of GCE London Advanced Levels in biology with minimum 50% aggregate or a degree in Biological Science or Chemistry or the completion of a pre medical course from a recognized institution or a university.
Speaking on the benefits provided to students and patients through this medical programme, Dr. Edirisinghe said, "We will be providing equivalent or better Clinical training through Oasis Hospital as well as through several other peripheral hospitals state and private for our students. Already we have most of the necessary infrastructure and other facilities needed in this regard. We also have the ability to allocate a team of highly qualified local as well as international doctors as our teaching faculty. All these initiatives will not only benefit our student community but will also benefit our patients as well."