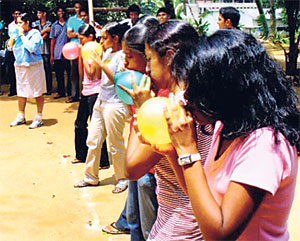 MIIT Education celebrated their first ever Sinhala and Tamil Avurudu Festival on 18th April 2009. It has been a joyous occasion where both students as well as the faculty enjoyed themselves in the true spirit of the New Year.
The entire celebration had been organized by the students union whose dedication, unity and untiring efforts have made the occasion a great success. Their professionalism in managing the event has come to much praise from both the faculty and parents alike. MIIT Students union has been created with the view to provide opportunities to the students to develop their skills in leadership, organization and management.
The Avurudu festival has shown ample evidence of the above skills of MIIT students which will greatly enhance the opportunities and avenues for them in the future endeavours. The student union was led by Supun Jayasinghe, and the union comprised of following members: Promodh Jayasinghe, Ruwan Beruwalage, Kumudhini Paramasivam, Ruwini Manorathne, Kalana Hewage, Hussain Ahamed, Sandeepani Maddagamage, Thilanka Tennakoon, Nirasha Ediriinghe.