The Institute of Chartered Accountants of Sri Lanka (ICASL) has recently set up its Chapter in Qatar, which would be working under the aegis of the Sri Lankan embassy in Qatar.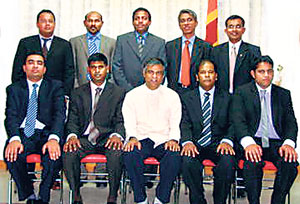 Front row: (Left to Right) - R Senthilnathan - Secretary, M Thayabaran - President His Excellency Vijaya Padukkage - Ambassador of Sri Lanka in the State of Qatar Felix Dayananda Ponweera - Vice President Rukshan Karunarathne - Treasurer
Second row: (Left to Right) - Rizwan Yaseen - Exco member, Asoka Rupasinghe - Exco member, J Jayakody - Exco member, Anoma Alwis - Exco member and A Gamage - Exco member
The President of ICASL Mr. Nishan Fernando said that "There are more than 80 Sri Lankan Chartered Accountants residing in Qatar and the 'Qatar Chapter' is established in order to enhance the professional competence and social networking of Sri Lankan Accountants". The prime objectives of the newly founded 'Qatar Chapter' are to enhance and nurture the skills of Sri Lankan Chartered Accountants, facilitate Continuing Professional Development and to provide room for cooperation which would benefit the society and the profession.
The newly elected president for the Qatar Chapter Mr. Thayabaran says that "Compatriot Chartered Accountants in Qatar have already earned respect due to their professional competence and we intend to enhance it further to add value to our Chartered Accountants in Qatar"
The establishment of the Qatar Chapter would definitely add value to the Sri Lankan members and also would provide a stable foundation for their respective careers.
The ICASL is the Premier National Accountancy body in Sri Lanka which has a broad student base of over 30,000, and has nearly 4,000 members employed throughout the country and overseas.