Spring-Cleaning Your Personal Narrative
View(s):

With the recent change in the weather, the release of Marie Kondo's series on Netflix and the advent of the Spring Festival/Lunar New Year, it's time to begin thinking about spring-cleaning. Many cultures have a tradition of deep cleaning your residence once a year, discarding unwanted items, discovering hidden pockets of dust and dirt, rearranging furniture and dealing with home maintenance we've been ignoring (a burnt-out lightbulb in a disused corner, a door that doesn't quite shut, a wobbly table leg). But how much better would our lives be if we took the time to do a mental spring-cleaning as well, dealing with the dusty corners and broken lightbulbs of our insecurities and harmful self-narratives?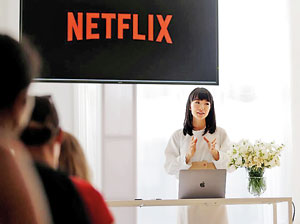 Your senses pick up more input each moment than your brain could possibly process, so your mind auto-filters, focusing on your phone screen, the dog you're petting, the sound of your own name, rather than the license plate numbers of every car passing by, the feeling of the tongue in your mouth, or the hum of a fluorescent light. In the same way, your mind chooses what to focus on when converting the events of the day into your long-term memory. But there's another step that happens when we convert our long-term memory into a personal narrative. It's the difference between "I remember the last few times I tried working out, I didn't enjoy it" and "Exercise just isn't my thing." However, this is your ego talking. Your ego is the part of your self that instinctively builds a narrative that makes you look good, makes excuses for yourself, or focuses on the negative. But all it takes to rewrite your personal narrative is to notice that broken lightbulb or disorganized cabinet and put some effort into reshaping it into something functional. For example, what if instead of discounting exercise because of a few negative experiences, you told yourself and others, "I think the initial 'push' to get into working out is difficult for everyone, but I've already noticed improvements in my sleep, mood and energy levels." The stories we tell about ourselves eventually become our reality—so why not make those stories embody a growth mindset?
That isn't to say that, when performing your mental spring-cleaning, you should discard everything negative. The New York Times recently published a story in Smarter Living about keeping a "failure résumé"—in a world where everyone is consistently curating their lives on social media and in person, focusing only on their successes, there's something to be said for talking about all the accomplishments that you didn't receive. However, the idea is not to focus on the failures but what you learned from them. Yes, if these memories don't "spark joy," Marie Kondo would recommend that you discard them. However, she would also recommend that, before you discard them, you thank them for their service. For example:
Thank you for teaching me that I need to study more thoroughly for exams.
Thank you for helping me to stay humble.
Thank you for showing me the dangers of procrastination.
It's easy to notice mess in someone else's house, or negative narratives that other people tell about themselves—many of us have that coworker or family member that complains or feels sorry for themselves to an unhealthy extent. In the same way, we are most familiar with recognizing ego in others who are loud and arrogant and "have a big ego," but we are far worse at recognizing when our own house is out of order, or our own ego has taken over. But the ego isn't only the source of arrogance—it is the constant stream of thoughts in our head that criticizes ourselves and others, complains about situations, feels bad for itself, holds on to resentments and seeks validation from others.
When left unchecked, the ego is in the driver's seat of the stories we tell ourselves. The ego feeds off of negative energy, and if left unchecked, the mess and dirt will only build up. When we feed our egos, we stifle the part of ourselves that wants to throw open the curtains and start wiping down the baseboards—the part of ourselves that knows that challenges are opportunities for growth, that struggles help us evolve and that the only reason we're not getting what we want is because we're listening to our ego and the negative narratives it's building about us. Our ego takes deliberate effort to fight against—it's why so much self-help advice centers around writing down positive things that happen, keeping a "gratitude journal," and generally focusing on the positive. Each of us can be successful if we stop identifying with our ego, develop growth mindsets and use the stories we tell about ourselves to catapult us into living extraordinary lives.