International Forum for Students (IFS) 2019 – 'Designing Destiny, Sustaining Success'
View(s):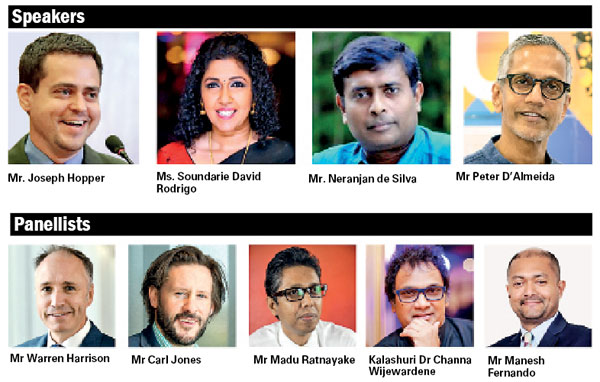 Gateway Graduate School, the higher education and professional development arm of the Gateway Group, in association with the University of Adelaide, Pearson Edexcel, Teesside University and Deakin University is organising the second annual International Forum for Students on the 12th of February 2019. This innovative conference, exclusively meant for the high school students of Sri Lanka, will be held at the BMICH; it will feature prominent experts from abroad as well as local professionals with wide international exposure in diverse fields.
Over the past three years, the organisers of this event have also hosted International conferences for teachers (International Forum for Teachers – IFT) and parents (International Forum for Parents – IFP), both in Sri Lanka and in the Maldives. The overall aim of the International Forum for Students (IFS) is to expose students of Sri Lanka who are about to enter higher education and/or professional studies to the important changes that are taking place in a global context such that they are able to prepare themselves proactively for the challenges ahead.
Designing Destiny, Sustaining Success
In forging ahead with the future, success and progress are not certainties, particularly in this changing world. The theme for the IFS 2019 is 'Designing Destiny, Sustaining Success'. The event will specifically focus on the exponential advances in knowledge, technology and ways of life and their influence on how students should plan their acquisition of new skills and competencies through formal education and informal experiences. The distinct and varied challenges presented in the 21st century require different modes of engaging and functioning through the possession of the following competences: Systems/design thinking competence; anticipatory competence; normative competence; strategic competence; collaborative competence; critical thinking competence; self-awareness competence; integrated problem-solving competence; and ethical as well as spiritual competence.
The challenge for parents and schools is to ensure that they collaborate to nurture these competences. Students should, in particular, work towards enhancing their abilities and make certain that their choice of further education is geared towards designing their destiny and sustaining success. The conference seeks to inspire the minds of students through a series of thought provoking sessions.
The Target Audience
The audience participating at this conference will be Advanced Level students, prefects and meritorious non-prefects, from over thirty five leading schools of Sri Lanka. The overall ethos of the conference embraces inclusivity as a key value proposition; as such a mix of students from the state, private and international schools are invited. The conference offers delegates the opportunity to exchange innovative ideas and develop useful networks.
The Speakers and Panellists
The speakers at the conference include:
nMr Joseph Hopper, Head of Learning Design at Pearson Edexcel; Mr Hopper will give the introductory speech on the topic 'Use Design Thinking to Chart Your Career' and set the tone for the conference proceedings.
nMs Soundarie David Rodrigo, Founder and Music Director of the Soul Sounds Academy and Soul Sounds as well as an Intellectual Property Lawyer and Mr Neranjan de Silva, Founder of Oktave and a Chartered Engineer; Ms Rodrigo and Mr de Silva will jointly present their personal perspectives about the transferrable skills that can be developed by pursuing arts in conjunction with traditional fields of studies through their speech titled 'The Role of Arts in Fostering 21st Century Professional Skills'.
n Mr Peter D'Almeida, Managing Director and Chief Executive of N*able; Mr D'Almeida will speak on the topic 'Workforce of the Future: Curiosity in the Age of Disruption' and will present his professional insights about the work skills required for the future.
In addition to the above speeches, a panel discussion centred on the conference theme 'Designing Destiny, Sustaining Success' will feature a diverse group of panellists:
Mr Warren Harrison, Associate Dean (International), Teesside University Business School, Teesside University
Mr Carl Jones, International Manager, Deakin International, Deakin University
Mr Madu Ratnayake, Executive Vice-President, CIO and General Manager, Virtusa
Kalashuri Dr Channa Wijewardene, Founder and Dance Director, Channa-Upuli Performing Arts Foundation
Mr Manesh Fernando, General Manager, Hilton Colombo
Each panellist will bring in his/her unique views to make the session broad and interesting.
Please call Thilina or Rushika on 0777060157/ 0772256356/ 0112695103/ 0112695107 or email info@if-s.com for more information as well as to register for the event. Very limited seats are available for this event which is completely free of charge where admission is strictly on invitation.