Best professionals with best facilities for your future career
View(s):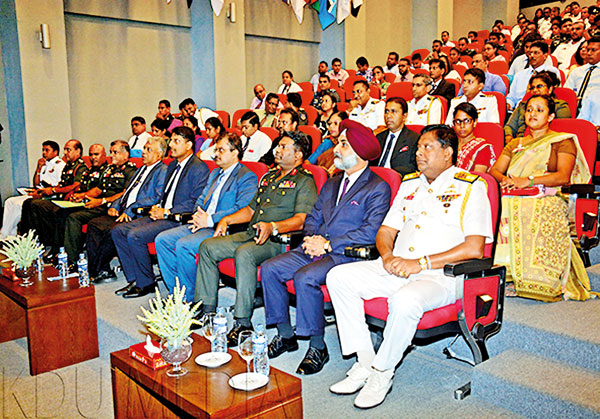 Faculty of graduate studies
The faculty of Graduate Studies of General Sir John Kotelawala Defence University is engaged in conducting External Postgraduate and undergraduate degree programmes in addition to the diverse range of certificate and diploma programmes for interested Executive Personals of public and private sectors as well as Officers of Tri Services and Police. Rather than focusing only on the academic based professional development, the Faculty of graduate studies also ensures the personal growth of their students through interactive sessions, experimental learning, and independent research projects. With new teaching techniques and methods, the course components of these degree programmes are designed to facilitate and enhance the knowledge base of the students, to develop their skills and to transform attitudes and approaches for problem solving.
Mr. Ravinath Ariyasinghe, the secretary of Ministry of Foreign Affairs Sri Lanka is currently the lecturer for International and National Security at General Sir John Kotelawala Defence University.  Sharing his teaching experience at KDU, he stated that the learning environment is very friendly and encouraging where as it provoke students to be enthusiastic and eager to learn.
He added "Rather than adding another qualification to your CV, it is important that you factor what you learn in to your working experience. At KDU, students are there because they know why they are there and to get something from it. And that is a good place to be."
Master's Programmes at KDU
KDU offer a range of postgraduate degree programmes including MBA degree in E-Governance and Msc Degrees in Civil and Structural Engineering, Electrical Engineering and Management.
The Master's programme covers a broad spectrum of related subjects including all the key areas needed to become a successful team leader. The programme is designed in accordance with the Sri Lankan Qualification Framework published by the Ministry of Higher Education and its academic standard is equivalent to Sri Lanka Qualifying level 10. Designed by a panel of senior academics and professionals from reputed universities and institutions in Sri Lanka, KDU ensures high academic standards to facilitate participants to complete Master's Degrees in two years whilst being employed.
The duration of the Master's Programmes is four semesters (two academic years) and classes are scheduled from 0830 hrs to 1730 hrs on every other weekend except on public holidays.
"Twenty years ago when I started working at Maliban as a quality assurance executive it only touched the technical aspects. But as I was planning to grow with my career, it needed the touch of management techniques and tools. That is why I selected KDU for my second MSc degree in Management. I followed and completed the degree successfully with a broad knowledge on important management aspects like Strategic Management, Project Management Total Quality Management and Human Resource Management. ", said Mr. Vinoy Jayashantha, who is now the Senior Manager of Quality Assurance, Research & Development at Maliban Biscuits Manufactories Pvt. Ltd.
Adding to this, Mr. Vinoy Jayashantha said that the Masters programme at KDU is properly designed to an on time schedule with high quality educational standards and a highly qualified lecturer panel.  He also stated that apart from all the academic knowledge, his masters degree helped him to develop his presentation and people skills, something which is very important for a manager.
Apart from this, the overall goal of FGS at KDU is to develop and enhance the capabilities of the researchers, possessing originality and ingenuity to conduct pioneering research at the front lines of different interdisciplinary and multidisciplinary research. Postgraduate students are always encouraged to publish their research work in Indexed Journals, Peer reviewed Journals and in local and international research conferences as well as to develop their researches to meet the needs of the industrial sector and society, contributing significantly to the national development.
Facilities and services
As for facilities and services, KDU ensures that their students have access to all the necessary learning facilities at their best condition.
m-learning Platform – With the enhancement in new technologies at KDU, the Faculty of Graduate Studies has introduced a new m-learning platform for postgraduate students, who are unable to participate in lectures due to their personal and official commitments.  This facility helps the students to connect live with the lectures from their working or living places world-wide.
Library Facilities – The KDU library provides excellent services including inter library loan service and book reversion facilities. Moreover, the students have the opportunity of getting the membership and reference services of British Council Library and American Centre Library. Subscription Databases and Information Networks are also been provided as additional facilities.
IT Facilities – The University provides a wide range of computing resources and support services so that students can utilize those computing facilities for research, course work and general work.
In addition to this, KDU provides the students free WiFi Facilities, comfortable classrooms with Air conditioning, lunch and refreshments and a friendly learning environment.
- Thishana M. Rajanayake