INCOHST 2019 Inter-school IoT competition
View(s):

Pretty much any object can be transformed into an 'Internet of Things' device, if it is connected and thereafter controlled by the internet.
For instance, a lightbulb that is switched on using a smartphone app is an IoT device. Similarly, an automated pet feeder controlled by your smartphone, or a motion sensor controlled home lighting system are IoT devices. The range of IoT devices vary from a simple child's toy, to a driverless car which cruises the roads of Colombo!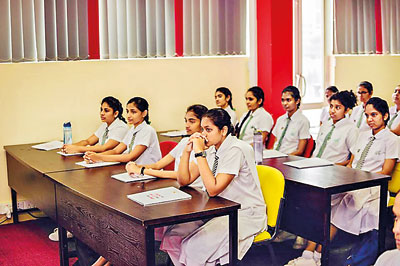 The term 'IoT' is mostly used for devices that wouldn't usually be generally expected to have an internet connection. Thereby, a PC isn't generally categorized as an IoT device and neither is a smartphone. However, a smartwatch or a fitness band are argued to be IoT devices.
INCOHST 2019
INCOHST 2019 is an IoT (Internet of Things) event organized by Nawaloka College of Higher Studies to create awareness about IoT among Sri Lankan students and also to make a stage for Young innovators to invent IoT based solutions, catering different social needs.
A crowd of more than 120 students are invited to attend a workshop conducted by Ideamart on 12th February at Nawaloka College Auditorium. They will thereafter participate in the final event on 9th March at the Dialog Auditorium. The students will get the opportunity to create an IoT device which could benefit the environment. "INCOHST is a platform for students to bring their innovative ideas to life" Hasitha Fernando, Manager Enrollment, Nawaloka College of Higher Studies explained.
"The event is a great opportunity for students to demonstrate their IT skills. Swinburne is particularly known for their expertise in technology, innovation and entrepreneurship. They have now started a new degree in the Internet of Things. They are delighted to join hands with the students of Sri Lanka to show their knowledge, skills, creativity in relation to IoT" Dr. Alan Robertson ,Dean of Studies, Nawaloka College of Higher Studies.
Practical Education which open doors to the future
Swinburne is globally reputed for its innovative education that meets the needs of the future. It has gained a reputation of being an 'Industry-engaged, industry-informed' university. The Curriculums are designed to produce students who are one step ahead of the industry trends, and therefore are high in demand.
Nawaloka College of Higher studies (NCHS)
Nawaloka College of Higher studies (NCHS) is a provider of globally recognized higher education qualifications. Located in the heart of Colombo, the NCHS campus consists of modern facilities, providing students with an international learning environment. With a strong commitment to provide high quality education, NCHS offers distinctive benefits that are tailor made to suit the needs of each individual student.
NCHS has partnered with the global leaders in education, the Swinburne University, Ulster University, UK and California State University -Monterey Bay, San Marcos, Bakersfield, Humboldt, Northridge, Fresno state and Sacramento state and University Albany to deliver transfer programs in Sri Lanka.
For more information on INCOHST or other exciting initiatives at NCHS, call 0765304655/ 011 5 899 998 or email info@nchs.edu.lk