Huawei introduce Wireless Reverse Charge and Ultimate Dual Biometric Security in Sri Lanka
View(s):

Built behind the ethos of "Limitless human imagination", HUAWEI Mate 20 Pro presentsseveral major breakthrough advances in technology, making the device the ultimate exemplification harnessing technology to explore the best out of life.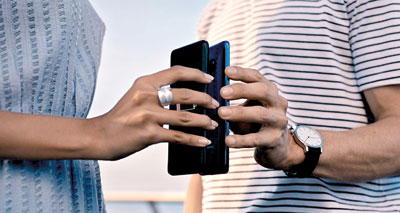 Country Head HUAWEI Devices Sri Lanka, Peter Liu stated "Mate 20 family resonates with the high achievers who understand technology as a tool, and how it advances what they can do. With Wireless Reverse Charge and the Ultimate Dual Biometric Security of HUAWEI Mate 20 Pro we intend to introduce the new era of smartphones to Sri Lankan users"
Revolutionizing the battery technology of smartphones, the device packs in a 4200 mAh battery, and is accompanied by 40-watt fast-charging capabilities and supports Qi wireless charging, which presents itself as the industry's fastest wireless charging solution.HUAWEI has gone a step ahead by introducing 'Reverse Wireless Charging' and it gives the ability to use the 4,200mAh handset to power up another wireless-charging-capable or Qi enabled devices.
Smartphones have been able to do similar via USB-C cable for a while. Plenty of phones offer normal wireless charging, usually at something approaching a snail's pace. But back-to-back wireless charging of another phone is certainly a novelty.
Under the theme of Unlock Life's Possibilities, HUAWEI Mate 20 introduces the Ultimate Dual Biometric Security;a leap in Accuracy and Security for Smartphones. The Mate 20 Pro comes with two cutting-edge biometric options. The first is a 3D IR face scanning system via a 3D facial mapping system built into the front camera array (hence the wider notch on this handset). It projects 30,000 dots onto your face to detect its contours and securely recognise you. With raise-to-wake and the option to skip the lock screen when you're recognised, HUAWEI Mate 20 Pro recognises the user easily to unlock the phone swiftly. Your face ID can also be used to securely access a private screen containing locked apps and personal data.
The second is an optical fingerprint sensor embedded directly into the screen about a third of the way up. A patch lights up to show you where to put your thumb. With the ergonomic design and Dynamic Pressure Sensing technology, you just need to raise your finger and touch the screen, your phone will get unlocked securely and instantly.These two options works in tandem to step a true leap in Accuracy and Security for Smartphones.
In addition, with the technology, users can unlock to a new level of entertainment by scanning a toy with the 3D Depth Sensing Camera to create an AI live model. Not only users can now take photos, but also record it moving and dancing on your desk. 3D Live Emojis is another feature that lets users express themselves more accurately.
Biometric authentication works with the App Lock and Private Space features, as well. App Lock lets you lock access to specific apps until the phone detects your face or fingerprint — great for keeping kids out of sensitive apps. PrivateSpace lets you set up a completely separate workspace that opens when you use a specific fingerprint. A user could use this function to keep your work and personal apps separate.
Mate 20 Pro has a handful of unique features that totally set it apart from the rest of the market, which increasingly seems to blur the line between what you dream to do and what you can do with technology.It also offers the most cohesive and intuitive user experience to users across the globe, stunning them with top notch technology, design and comfort in user experience.
Available in 6.53-inch and 6.39-inch, the HUAWEI Mate 20 Series encompasses three devices: HUAWEI Mate 20, HUAWEI Mate 20 Pro and PORSCHE DESIGN HUAWEI Mate 20 RS. The Mate 20 series devices comes with a one year  warranty and will be available for consumers at all HUAWEI Experience Centres with Sri Lanka's leading smartphone marketer, Singer Sri Lanka PLC ensuring the availability of the Mate 20 series devices island wide. Selected Dialog and Mobitel outlets would also market the new devices with the HUAWEI Mate 20 priced at LKR 124,900 and HUAWEI Mate 20 Pro priced at LKR 174,900. The designs are available in 6GB RAM + 128GB ROM configuration and PORSCHE DESIGN HUAWEI Mate 20 RS with 8GB RAM + 256GB ROM is priced at LKR 299,900 for customers in Sri Lanka.