University of Wollongong – World class training in research and teaching
View(s):

Nadeesha Dharmasiri graduated from Earth Resources Engineering, from the University of Moratuwa. With first class honours in her undergraduate degree, Nadeesha was offered a full scholarship from the Australian Government to pursue a PhD at the University of Wollongong (UOW). "Coming to UOW was a dream come true, I got the best professors in the country, which nourished my higher study dream further", says Nadeesha.

Completing a doctorate that investigated solutions to current problems in irrigation, mainly involving sedimentation and flow resistance in large rivers, Nadeesha's contribution to this field is enormous. "Currently there is no method to explicitly calculate the exact impact, each of these factors put on a particular water flow. My research addresses this gap, solves the problem, and provides a comprehensive method to develop effective and efficient irrigation channels. This model can be applied in any country" Nadeesha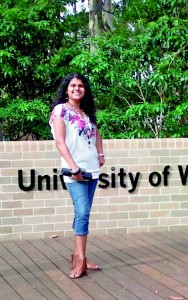 noted.
Nadeesha's research has attracted international and national awards including Best Paper Awards at two major international conferences in Hydraulic Engineering and the International Association of Hydro Environmental Engineering's Young Hydraulic Engineer Award. "The expert guidance received from my supervisor, Dr Shuqing Yang, and staff at UOW on how to impart my research findings to the international community was mammoth. Words are not enough to express my gratitude to them all.
The research facilities are outstanding, no waiting to do your experiments, and always staff available to help you. This sharply increases the efficiency and effectiveness of research students." Nadeesha explained.
Deciding to develop her teaching skills while studying at UOW, Nadeesha tutored in engineering subjects. Reflecting on this experience she said, "The education system at UOW is very friendly. The teaching runs as a discussion between students and teacher and students are encouraged to learn from their mistakes. This greatly enhances critical thinking and independence vital to engineering. This teaching style promises a better future for everyone, I imparted my knowledge to students and also learned from them, and grew to become a better lecturer". Her outstanding contribution to the teaching and learning experience at UOW led her students to nominate Nadeesha for the Vice Chancellor's Teaching Award, which she won. "Winning the award was out of this world. The resources available at UOW to strengthen your teaching bought out the best in me. UOW has given me everything I wished for in my academic and professional life."
CRICOS provider number 00102E
You can learn more about studying in University of Wollongong from Stephen Lowe, Assistant Manager, International Recruitment who will be present at the Australian Government organised Australia Future Unlimited: Education Exhibition to be held on 23rd-24th February 2013 at Taj Samudra Hotel.
Article published with the assistance from:
Australian Trade Commission (Austrade), Colombo-Sri Lanka.
Contact: David Samuel, Business Development Manager, Email: David.Samuel@austrade.gov.au
Follow @timesonlinelk
comments powered by

Disqus