Mr. Minister, take this also into consideration
View(s):

We learned that upon the Melbourne debacle, some of the high-backed cushioned chairs at a Maitland Place building, which is called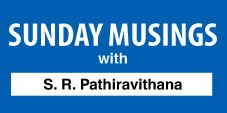 by its most appropriate name, Sri Lanka Cricket, began to heat up.
Anyway SLC Secretary Nishantha Ranatunga was in Melbourne to swallow the bitter pill while some of the other big wigs rushed back to their hot seats in Colombo.
Losing a Test in Australia is nothing new to Sri Lanka because they have never won a Test match there either. Yet, the nature of the Melbourne loss was disheartening. To some it was a loss only a gutless and a disunited pack could create for themselves.
At this end, a fired-up Sports Minister convened a meeting with the cricket authority. They held serious talks on how to bring back Sri Lanka's cricket to a respectable point.
Two of the matters addressed were the monopoly among senior players and the actions of the Lankan Selection Committee whose contracts, anyway, expire at the end of this month.
Allegations about senior players' monopoly are nothing new. I am sure the last few generations of national cricket teams had the same problem. From a human angle these lads are professionals and their life at the top remains as long as they are youthful and active enough to perform at the levels that are demanded of them. As a result, once a good combination is formed no management would want to rock the boat.
This is where good management comes into focus. First they must have a clear policy of what they are looking at and what goals they are setting both in the short term and the long term. That is where the checks and balances come into play. At the same time the management must also have their focus on the right priorities.
For instance, right now Sri Lanka's focus on Test cricket is minimal. Why? For them it is an arduous list of expenses which do not yield equal returns. Yet, the cricket world revolves in a different manner. If a team is up in its Test fortunes and they remain consistent, the other cricket-playing countries take note of them. Almost a decade ago, when Sri Lanka was propelled by the Muralitharan-Vaas combination, which had the rest of the batting-world bemused, and the exploits of Jayasuriya, Atapattu, Sangakkara, Jayawardena had the bowling-world scratching their heads; things were happening. The rest of the world took Sri Lankan cricket seriously and we became a side to beat. The result was the 2012 Sri Lanka tour to Australia had three Test matches at all good venues and it also included a Boxing Day Test match in Melbourne.
Prior to this, one can remember in 2004, with Sri Lanka having one of the strongest Test sides at that time, the country was afforded two Test matches at Cairns and Darwin on dubious wickets where even the Australian cricketers could not play their own type of cricket. This was a result of the cricket that Sri Lanka was playing at the time the agreement between the two boards was made.
The mistake that Sri Lanka made was they did not have their forward planning done in earnest. They always knew that it was their bowling department that was thin. Yet, they hardly focused on that weak point. They had Muralitharan and Vaas doing the job, so they were comfortable on their perches. Going back to 2004, it was the time that Lasith Malinga was blooming. They should and could have nurtured him and looked after him as the next horse that was going to win the Lankan Derby. But, the lad was mishandled and he now has turned into cricket's Mr. Jackal.
Emerging from the Murali shadows, Rangana Herath is now performing at the international level. But he has no partner in the Test arena. If the Lankan management had the wisdom of foresight and was less haughty, perhaps Sri Lanka would have had a Malinga-Herath combination performing at Test level. Herath is now 36 years old. Do Sri Lanka have another young spinner at hand who has taken 50 Test wickets and performs consistently without injury? Malinga does not play Test cricket, yet did the Lankan management discover a young seamer who could hold his own at the international level and take 50 Test wickets? Yet, we have a selector in our midst in Don Anurasiri, the onetime left arm spinner who bagged 41 wickets in 18 test matches. He has been a part of the process for the past eleven years. What was he doing all this while?
There is one salvaging point in this whole disheartening episode. It is that when the Lankan ship was sinking, at least three young sailors in Dimuth Karunaratne, Lahiru Thirimanne and Dinesh Chandimal tried to swim ashore. Playing on more than challenging Australian wickets they played one good innings each. This means these young lads have what it takes to be cricketers at this level. Now it is up to the management to harness what we have.
Then there was a hint that there may be three teams for the three disciplines of international cricket. I wonder how it is going to be. For sure the Test side has to be the best and should be competitive internationally – winning Test matches home and abroad. Which is the segment that is going to man it? Is it the lot of seniors who are past masters of the game? If they play Test cricket, are they going to be caged there? In this commercial world where the IPL plays the main tune, would a ploy of that nature work?
Are we going to get a set of youngsters, bite the bullet and build a Test side leaving the older hands to play 'short' cricket. I feel that too would be a bit suicidal.
However, we have arrived at a junction where there is no looking back. Everyone knows that Lankan cricket has problems and problems which need quick solutions. Yet, nothing can be solved that easily. You cannot run up the Himalayas just because you want to do it. Sri Lanka's cricket is indeed at a crucial juncture. The good minister has pulled out a point, but he is not the man who can address it because his knowledge of the game may not be as sharp as his political acumen.
Even the cricket fraternity must look at this task honestly, without prejudices and other affiliations. If the Lankan cricket vehicle is entrusted to the right mechanic, we will drive off. If not, our cricket will remain Kota-Uda.
PS: Say you drop the selectors. Do you think under the present circumstances you could entice anyone who is worth his salt to take over the responsibility? We have seen people of standing run away. First you may have to get the stables cleaned and then get the race horses to march in there.
Follow @timesonlinelk
comments powered by

Disqus