The deadly dengue fever is raising its head again with experts warning that it may reach epidemic proportions in the coming months claiming more lives. So far for this year 8 deaths have been reported and the number of cases reported has risen to 1721 from 734 last week. In 2011, 185 deaths and 28,138 suspected dengue cases were reported to the Epidemiology Unit of the Health Ministry.
Deputy Director General (Public Health), Dr. Sarath Amunugama said since December there had been a steep rise in the number of dengue cases.
"Usually after the north-east monsoon there are several sporadic outbreaks in various parts of the country but in the Western province three is a steady increase. This situation could turn into an epidemic level by May," he warned.
Beware!
The dengue mosquito usually bites in the mornings and evenings, with the highest biting intensity being about two hours after sunrise and before sunset.
Dr. Amunugama said the Ministry of Health had declared January 16-22 as the National Dengue Prevention Week launching islandwide cleaning campaigns to eradicate mosquito breeding grounds.
"Prevention programmes will continue with the assistance of public health officers, police and military personnel. Not only residences but offices both public and private will be thoroughly inspected and legal action would be taken against offenders," he said.
Dr. Lak Kumar Fernando, co-author of World Health Organization (WHO)'s Guidelines for Prevention and Control of Dengue and the author of Sri Lanka's Guidelines on Clinical Management of Dengue Fever / Dengue Haemorrhagic Fever, too warned the increasing trend of dengue cases could be a sign that it was heading towards epidemic proportions.
"However, we haven't reached the peak yet, this unfortunately means more cases in the coming months," he said. Out of the eight deaths reported for the first month of this year, three were from Gampaha, two from Colombo, one each from Puttlam, Kandy and Ratnapura.
Dr. Fernando who is also the consultant paediatrician of the General Hospital, Negombo said, "Gampaha district with its dense population is seeing a steep increase in dengue cases. This is mainly due to man-made breeding spots like containers, unattended land and poor garbage disposal."
In the first week of January five dengue Intensive Care Units were set up in Gampaha Hospital at a cost of Rs.20 million. This is the first hospital to have such ICU's to treat dengue patients.
According to Dr. Fernando, there is no specific treatment for dengue fever and the only method to curb the disease is to destroy or prevent the spread of dengue mosquito breeding sites.
"There should be pro-active surveillance where even if only a couple of people fall ill with dengue from an area the authorities should be able to immediately visit the house, neighbourhood, conduct cleaning programmes and fumigation. At present, preventive measures take place only when a death occurs, which is too late. The dengue mosquito is not a long distance carrier, he said.
Health Minister Maitripala Sirisena said that the ministry had allocated Rs.300 million to control the menace while the Ministry has identified another 17 Medical Officers' of Health (MOH) areas as 'high risk' .
Piliyandala in Colombo district, Seeduwa and Mahara in Gampaha district, Kalutara and Walallawita of Kalutara district, Matara PC of Matara district, Galle Municipal Council area in Galle district, Point Pedro in Jaffna district, Mannar in Mannar district, Alawwa in Kurunegala district are some of the new MOH's declared as high risk zones.
Kilinochchi in Kilinochchi district, Batticaloa in Batticaloa district, Nattandiya in Puttlam district, Ruwanwella and Rambukkana in Kegalle district, Pelmadulla and Balangoda in Ratnapura district are also included in the latest list of high risk areas.
Last year about 56 percent of dengue deaths and cases were reported from the Western Province.
The already-declared high risk areas in Colombo district are Dehiwala, Kolonnawa, Colombo Municipal Council area, Moratuwa, Nugegoda, Kaduwela, Maharagama, Kotte and Homagama.The dengue dense areas in Gampaha district are Wattala, Dompe, Ja-ela, Negombo Municipal Council area , Biyagama, Gampaha, Mirigama and Minuwangoda.
Beruwala, Panadura and Matugama are the danger zones in Kalutara district. In the Kandy district, Gampola, Kurunduwatte, Kandy Municipal Council and Wattegama have been noted for high number of dengue cases.
Matale MC in Matale district, Matara MC Kotapola and Devinuwara, in Matara district, Jaffna MC, Karaveddy and Chavakachcheri in Jaffna district, Vavuniya in Vavuniya district, Eravur, Chenkalady and Kattankudy in Batticaloa district, Kuliyapitiya, Pannala, Polgahawela and Rideegama in Kurunegala district, Kalpitiya and Puttlam in Puttlam district, Kegalle and Mawanella in Kegalle district, Ratnapura MC in Ratnapura are also some areas with dengue cases.
The Sunday Times learns that the Presidential Task Force on Dengue that was set up in 2010 involving the ministries of health, defence, environment, education, and local government headed by President Rajapaksa will meet on Tuesday (24) to discuss immediate measures to control the rapid increase in cases of dengue.
This week, the Cabinet approved a proposal by the Health Minister to conduct a four-year dengue surveillance programme, with 1.1 million Euro assistance from the European Commission.
This will include developing an early warning system for dengue in the country and supporting the healthcare system to control dengue outbreaks, the Sunday Times learns.
Dr. Ranijth Batuwanthudawe, Director, Dengue Control Unit of the Ministry of Health said the focus now was on controlling dengue than eradicating it since statistics have showed no major decrease when compared with previous years.
The unit was focusing on implementing sustainable solutions he said, adding that the eradication of dengue should be a collective responsibility of the government as well as that of the general public.
Colombo Municipal Council's Chief Medical Officer Dr. Pradeep Kariyawasam said in Colombo, low-income settlements especially in Borella, Dematagoda, Grandpass, Hulftsdorp, Kotahena, Mattakuliya, Narahenpita, Pamankada and Slave Island were attracting dengue mosquitoes.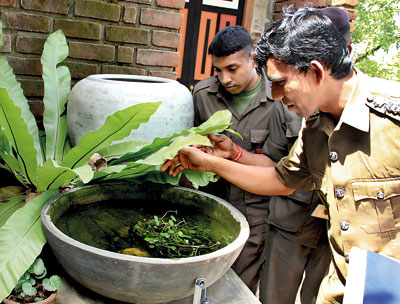 PHIs checking residences for dengue breeding spots in Kelaniya. Pic by Indika Handuwala
He said the absence of a proper drainage and garbage disposal system had resulted in more breeding places for mosquitoes. "Seventy percent of cases reported in the city were among schoolchildren. Therefore removal of breeding areas in school premises should be done continuously," he said.
Dengue is a mosquito-borne infection that causes a severe flu-like illness, and sometimes a potentially lethal complication called dengue haemorrhagic fever.
According to the World Health Organization (WHO), some 2.5 billion people – two fifths of the world's population – are now at risk from dengue. WHO also estimates that there may be 50 million dengue infections worldwide every year.
130 Navymen at Colombo camp hit
This week Parliament was informed that 130 Navy personnel attached to the Navy Camp close to the Colombo Harbour had contracted Dengue fever last year, a steep rise from 11 in 2010 and seven in 2009.
This was revealed in response to a query by UNP's Gamini Jayawickrema Perera who said that a large number of Navy personnel had contracted the disease due to stagnated water in containers piled up in the Colombo Harbour. Deputy Health Minister Lalith Dissanayaka responding said surveillance was conducted to identify mosquito breeding sites and the Navy base and Colombo Port have been included in mosquito prevention programmes.
Mossie larvae thrive at Kandy Secretariat
By L.B. Senaratne
An on-the-spot inspection by the Governor of the Central Province Tikiri Kobbekaduwa on Friday morning revealed the presence of larvae inside the Kandy Secretariat premises.
The Kandy Municipal Public Health Officers and Medical staff conducted this operation, where the Medical Team showed the Governor the larvae breeding sites. One of the major sources, it was revealed, was a small storage tank at the back of the canteen of the Secretariat, and also drain pipes where officers wash their hands.
Officers and the public patronise this canteen, and hence, there is an inherent danger of 'dengue' occurrence. The Governor ordered immediate, appropriate action to clean up the area. The Secretariat comes under the purview of the District Secretary of the Kandy District.
80 cases of dengue at CGR workshop- two dead
By Rekha Tharanganie Fonseka
Around 80 employees of the Government Railways, Ratmalana Workshop are suffering from dengue fever, with 14 admitted to the Nagoda Hospital for treatment, of whom two have died.
Public Health Inspector (PHI) Dehiwala-Mt Lavinia, S. Mendis said that the Ratmalana Railway Workshop area has become a high breeding site for mosquitoes, and tests reveal that many in the area have been affected by dengue.
The PHI has taken legal action against those responsible for preventing mosquitoes from breeding.
The Mayor of Dehiwala-Mt Lavinia said that, the workshop area in Ratmalana has been identified as a dengue breeding site and is taking all precautions to counter its spread.
Chief Engineer S.M. Abeywickrema said that all must take the responsibility to fight the spread of the disease, and asked how as many as 80 have become susceptible to Dengue, stating that there are about 2,500 workmen at the workshop, indicating that 80 was not a big number of casualties.
Symptoms, treatment and prevention
High fever
Headache
Rash
Muscle and joint pains
Vomiting
Dengue Haemorrhagic Fever (DHF)
Most patients recover from Dengue fever in about 3-4 days but some may get Dengue Haemorrhagic Fever (DHF) which can even cause death.
DHF is the dangerous stage of Dengue fever. One suffering from this would have normal symptoms of a Dengue fever patient as well as a rash, bleeding from nose or gums, brown or black vomit or faeces (stools), severe stomach pain, coldness of body, paleness of body, restlessness and drowsiness. These patients should be taken to a hospital immediately.
Although the fever may drop, it is important to protect oneself from mosquito bites as one can get the fever several times.
Treatment
Consult a qualified doctor
A lot of rest
Drink plenty of fluids (water, fruit juice)
Nutritious diet
Do not go to school or work with dengue fever.
Prevention
Dengue mosquitoes breed in containers where clean water is collected. These containers lie in and around homes and schools. Therefore empty tins, coconut shells and earthen ware should be crushed or buried.
Add salt to the water in flower vases and ant traps and change water frequently
Avoid throwing empty ice-cream and yoghurt cups, empty king coconut shells and sili sili bags (Polythene) out in the garden and on the roadside as mosquitoes find them cozy homes after rains.
Remove leaves and debris blocking drains and clean gutters.
Tyres on roof tops and in gardens should be filled with sand to prevent collecting water.
Containers used to collect water should be well covered and water kept for dogs, birds etc., should be changed frequently.
Small, mosquito-eating fish and copepods (tiny crustaceans) can be used for ponds.