Twenty one year-old, Sandaruwan the driver of the school van that was involved in a collision with a bus in Mt Lavinia early this week, leaving nine students injured – at least one seriously, was in the habit of racing with another school van owned by his employer.
Sachini Imara, a year 11 student of St. Lawrence College,Wellawatte told the Sunday Times that even on the day of the accident he was driving at a high speed going in a zig-zag manner, raising cries from students travelling in the van.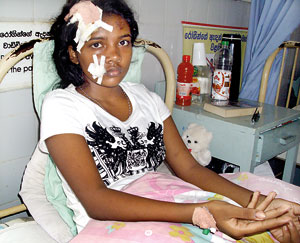 Sachini being treated for her injuries. Pic by Reka Tharangani
"When a student said she was scared, he told her to come to the front," Sachini who was treated at the Kalubowila hospital told the Sunday Times. The driver had got his licence only seven months back and the particular vehicle repeatedly had mechanical problems needing attention, the Sunday Times learns.
Ajantha Gunaratne, the father of the seriously injured, Kavinda Gunaratne, of Nalanda College, Colombo said he believed one of the problems was that any person who had a van could run a school van service.
"The driver's experience is not taken into account, but the vehicle's owner is still permitted to run a school van service," he said.
He said in this particular vehicle there were several complaints that the tyres were worn out and the vehicle was more often in the garage than on the road.. "Authorities should be more vigilant about permitting persons to run school van services as the lives of children are at risk when any person is allowed to run such a service," he said.
Of the nine students who were injured Kavinda who sustained head injuries is being treated at the ICU of the Kalubowila Hospital. Two others are also still receiving treatment. Meanwhile National Child Protection Authority (NCPA) Chairperson Anoma Dissanayaka told the Sunday Times that the particular vehicle involved in the accident was not one of those registered with the Authority under a directive given last year.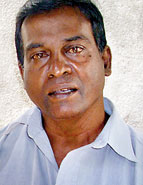 Kavinda's father
"We have 6,000 school vans registered with the Authority. The purpose of getting the vehicles to register was to check the road worthiness of the vehicle and to prevent cases of child abuse," she said.
She said of the 6,000 vehicles registered there was only one complaint against a driver who had sexually abused a student.
She said the President had directed to carry out an inquiry into the Mt Lavinia incident and make necessary recommendations to prevent such incidents.
Ms. Dissanayaka said that it is hoped to make a proposal that a driver of a school van should have a licence with a minimum of five years experience, a clean police report and should not have been involved in any fatal accident. The vehicle should also be roadworthy, she said.
She said that the recommendations would be submitted to the Ministry of Child Development and Women' Affairs.