Qatar Holdings, the investment arm of the Qatar Investment Authority of the Government of Qatar (which is Qatar's sovereign wealth fund) together with Qatari Diar Real Estate Investment Company, their real estate arm, are interested in a host of investments ranging from building villas in Kalpitiya, real estate development, to horticulture and highways, according to officials.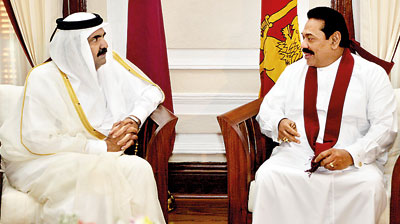 The Emir with President Rajapaksa
"They are especially interested in securing in the Kalpitiya Tourism Zone (KTZ) some large islands. They want to build five resorts in the North-West and the East coasts," an External Affairs Ministry official told the Sunday Times. He said that the preparatory team ahead of Sheikh Hamad bin Khalifa al-Thani, Emir of Qatar's visit last Sunday, had visited Kalpitiya, and also inspected lands in Colombo for real estate development and a mega mall complex.
"They are also interested in the Colombo Commercial Property (CCP) at Sir James Peiris Mawatha, and a host of sites in the South for hotel projects," according to the official. This also includes building five hotels.
With special focus on the KTZ, the Qataris are also interested in an easy-access highway from Katunayake to Kalpitiya. "While the details weren't discussed, they showed interest on building a highway to minimise travel time between this distance."
Officials from Hassad Foods, which is an investor-developer in the agriculture and livestock sector, who were in the preparatory team, had expressed interest in a cut-flower cultivation operation. The official said that marine cultivation was discussed in detail and some businessmen involved in mining were interested in a joint venture with a local firm (for a mining operation in Qatar).
The Sunday Times' Business Times last week reported that a team of six, including the Deputy CEO of the Qatari Exchange, had initial discussions at a joint meeting with the Securities & Exchange Commission (SEC), and the CSE, on buying a stake in the CSE. Qatar Holdings, which owns around 20% in the London Stock Exchange, is interested in a stake in the CSE, and will do a feasibility study of the local exchange, in a bid to invest in a 'sizeable' stake.
The official added that, along with the Emir, a group of leading Qatari investors explored the possibilities for mobilisation of more Qatar investment in the tourism industry, including infrastructure projects in the agriculture and fisheries sectors. He said that the Qatar Chamber of Commerce has invited its Sri Lankan counterpart to visit Qatar in March.
He noted that, following the Emir's visit, some nine agreements covering improvement of bilateral relations in economic, trade, investment, cultural and industrial sectors were signed.