The ongoing Galle Literary Festival hit a snag on Friday when the local authorities took away the flags that had been put up in public places inside the Old Dutch Fort. Galle Mayor Methsiri De Silva told the Sunday Times that he ordered the flags to be taken down after the Organizer of the festival failed to pay the required tax of Rs. 35,000.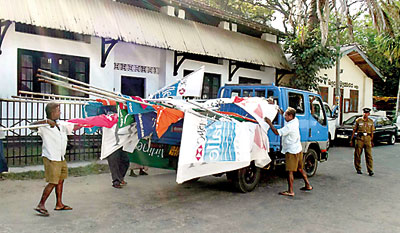 The banners being removed
He said the event's chief organizer- Mr. Geoffrey Dobbs, a British national had failed to pay the tax on previous five occasions as well despite repeated reminders. He added that each time the issue is raised every year he (Mr. Dobbs) would use local political clout and close the matter and it was no different this time around as well.
"The required tax is just a pittance when compared with the ticket rates for visitors that range between US $ 500 to $ 1000 and where a coca cola is sold for Rs. 100. He said that shortly after Friday's incident even President Mahinda Rajapaksa had got in touch with him and sought details.
The flags were later returned to the organizers after the organizers agreed to pay the tax, he said.
Mr. Dobbs told the Sunday Times that what happened on Friday was largely owing to a misunderstanding.
"Neither I nor the sponsors were informed about this tax payment and that is what led to the incident. It is most regrettable," he said. He denied allegations that he had dodged the same tax on previous occasions saying he was not aware of it and had never been informed.
However he added that the organizers had an issue with the Council some two years ago on taxes for tickets. "That matter was taken to courts and we won," Mr. Dobbs added.