Sri Lanka Police have obtained 100 dogs for the Kennels division at Asgiriya, Kandy, at a cost of over Rs 575,000 a dog. With transport cost and other incidental expenditure, each dog costs around Rs 750,000.
The dogs are from Belgium, the Netherlands, Great Britain and Germany.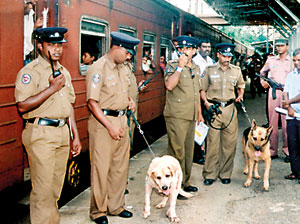 Police dogs in action. File pic
Police Kennels Director Senior Superintendent of Police (SSP) Mahinda Ekanayaka said that the earlier programme where local dogs were selected and trained, had been scrapped by the former Inspector General of Police.
He said they are to be trained as all round 'Canine Detectives', especially in narcotics detection and tracking at crime scenes, and were required to assist in a range of police functions and will be deployed in various divisions in the country, after completion of training.
Peradeniya University Veterinary Medicine Faculty Senior Veterinarian Dr. Ashok Dangolle said that, these dogs are the best that could be purchased by Sri Lanka for crime detection.
He said they could be trained as good canine detectives, as they have the stamina to stand up to any hard work.
The dogs were selected from around 240 specimens presented by breeders in the four countries.
The selection was done on personal inspection by Dr. Dangolle, who was accompanied by Assistant Superintendent Sisira Weerakoon of the Asgiriya Police Kennels.