The dispute among UPFA members in the Colombo Municipal Council continued yesterday with two rival factions hurling allegations against each other. A group of UPFA members claimed that they had met on Friday night and decided to call for the removal of their party member Azad Sally from the group.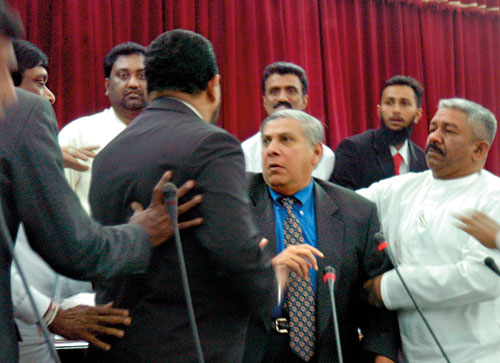 Earlier in the week: Azad Sally and Mohamed Maharoof came close to fisticuffs. Pic by Nilan Maligaspe
Azad Sally earlier threatened to resign from the Council after making a statement earlier this week, but at the last moment, he had decided to stay back, after President Mahinda Rajapaksa had personally spoken to him to remain in the Council.
Earlier in the week a statement he made on the floor of the council, led to a clash between him and Deputy Opposition leader Mohamed Maharoof.
CMC member Riza Zarook told the Sunday Times that the group had decided to call for the removal of Mr Sally on grounds of 'misconduct' at the Council meeting, where the members nearly exchanged blows.
"We cannot work as a team in the Council with Mr. Sally. That is why we want him removed," he said.
Mr. Sally rejecting allegations of misconduct, said that it was due to President's intervention that he had decided to stay on in the Council.
"Some say that the President did not speak to me, but let the President deny that. It is not for them to deny that,"he said. Meanwhile on Thursday the opposition UPFA gained control of the standing committee on finance with four of the six being elected to the Committee coming from the UPFA.
Mayor M.J.M. Muzamil said that some of his party members had voted for the UPFA for personal gains.