"When different societies come together to build a cohesive social system and a nation, it is necessary to ensure that benefits of development encompass all sections of society which comprises the nation," Former Indian President Dr. A.P.J.Abdul Kalam said.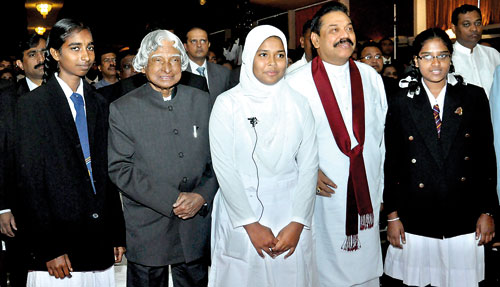 Abdul Kalam with President Mahinda Rajapaksa. Pic by Susantha Liyanawatte
Addressing the launching ceremony of a 10-year action plan for a 'Trilingual Sri Lanka' at Temple Trees yesterday, the former Indian President said it was important to evolve a society that would respect differences and celebrate differences through tolerance of people's opinions, culture, belief systems and styles.
"We need a system where diversities are a basis for celebration and not conflict," Dr. Kalam said.
2012 was declared as the year for a Trilingual Sri Lanka at the ceremony. The ten-year action plan aims to make Sri Lankans fluent in Sinhala, Tamil and English.
"World over, poverty, illiteracy, unemployment and deprivation are precipitating into the forces of strife, anger and violence. These forces link themselves to some earlier real or perceived historical enmities, tyrannies, injustices, inequities, ethnic issues and religious fundamentalism flowing into an outburst of extremism," he said.
Dr. Kalam said both India and Sri Lanka have witnessed and are witnessing such acts and both countries have to address the root causes of such phenomena to find lasting solutions to promote peace.
At the ceremony, Dr. Kalam presented a sustainable development plan, the Provision of Urban Amenities in Rural Areas (PURA) for 15,000 villages of Sri Lanka and offered expertise and support to implement it.
"With 16 million rural citizens, representing about 79 percent of the population, Sri Lanka has the potential to deploying about 160 PURA complexes based on the core competencies of the cluster of villages."
He proposed a 'coastal PURA' focusing the marine industry including sea fishing, processing, packaging and sales and sea tourism, a 'plain PURA' focusing on agro products and processing like rice and coconut, forest products, natural and medicinal tourism and 'hill PURA' promoting Lankan tea.
"We have to see how to evolve a language system in a diversified society for the common welfare of all citizens. The Trilingual Sri Lanka initiative will enable across-the –language-learning, enrich the education and further civilizational heritage of the nation," he said.