National carrier, SriLankan Airlines, rapidly expanding its destinations to accommodate the increasing number of tourist arrivals, last week launched twice-weekly flights to Moscow. The maiden flight commenced between the Bandaranaike International Airport (BIA) and Domodedovo Airport, Moscow last Saturday.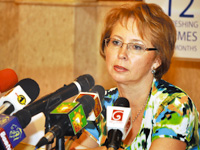 Irina Ozerova Chairman Connaissance Touroperator.
Pix by Amila Praboda Gamage.
"This is a significant air link for SriLankan Airlines as we connect to the largest country in the world also known as one of the greatest cultural and historic destinations," said the Head of Commercial Operations, Mohamad Fazeel in a media release.
Religious observances by dignitaries of the four religions in Sri Lanka, invoked blessings on the new service, before UL 531 departed the BIA. The flight operates via Dubai. Russian Ambassador Vladimir P. Mikhaylov said: "The new air services connecting Colombo and Moscow is a link that will not only facilitate travel but will be the impetus for building closer bilateral business connections as well as in social, cultural, sports and other spheres, better understanding of the historic heritage of the peoples of Sri Lanka and Russia".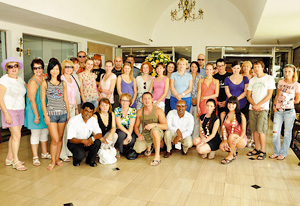 The group
SriLankan's new service operates twice weekly, initially with flights on Wednesdays and Saturdays on a brand new state-of-the art Airbus aircraft, configured to business and economy classes with plush leather seating and personal TVs with Panasonic's latest eFX Audio Video On Demand (AVOD) entertainment system.
Upon arrival in Moscow, the SriLankan delegation was received by Moscow's Airport Authority Officials and the Sri Lankan community members in Moscow. Moscow's Domodedovo Airport is Russia's largest, in terms of passenger traffic and is reputed as the largest and the most promising Russian airport.
SriLankan's VIP delegation included Russian Ambassador Vladimir P Mikhaylov and Mrs Mikhaylov; SriLankan Airlines' Head of Commercial Operations, Mohamad Fazeel; and Regional Manager for Russia/ Middle East and Africa, Lal Perera, and other representatives of SriLankan Airlines.
A group of travel agents and travel writers were present when the flight reached Colombo.