Renuka Holdings PLC (RHL) is on an aggressive expansion and is pursuing value added food and beverage exports, automotive, Fast Moving Consumer Goods (FMCG) food service, portfolio management and property development on the back of the peace dividend, officials said.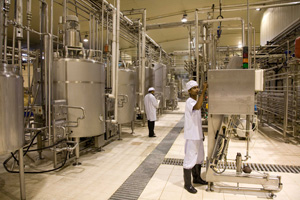 Picture of Renuka Agri Foods factory at Wathupitiwela
"We reclassified our business areas this financial year into four key segments in order to forge ahead with our expansion plans. The Renuka Agri Foods PLC group (RAL) heads the agribusiness sector, McShaw Automotive Ltd group the automotive sector, Shaw Wallace Ceylon Ltd group, the FMCG and foodservice sector, while Coco Lanka PLC group is our investment arm (portfolio management and property development)." Shamindra Rajiyah, Executive Director RHL told the Business Times in an interview.
RAL has a most diversified coconut factory in the country at Wathupitiwela off Nittambuwa, utilizing many alternative food processing technologies. Mr. Rajiyah said the company's agribusiness segment is engaged in plantations, manufacturing and marketing, noting that this firm went public two years ago. "We're currently commissioning our coconut water production plant and hope to be ready by January 2012. These products will mainly be for exports," he stated. Mr. Rajiyah said that coconut is Sri Lanka's third major agricultural export crop and that earnings from this sector accounted for 1.8% of last year's gross domestic product.
"The demand for value added coconut based products are generated mainly through households, catering industry (hotels, restaurants, caterers) and food manufacturing industries," he said. RAL manufactures coconut milk, coconut milk powder, granulated de-fatted coconut, etc, while its subsidiaries manufacture organic certified products, tea bags, spices, rice products among many other products, the unique feature being that over 50% of their exports are their own brands. Mr. Rajiyah added that after the coconut water project takes off the ground, RAL will venture into a Greenfield plantation project. "We're exploring about 5,000 acres of state land and this will be in the East and/ or North Western parts of the island," he explained.
Mr. Rajiyah said that RHL's automotive segment is the leader with Delphi Lockheed having an 80% share in brake oil market. "Shaw Wallace got together with McLarens Holdings early this year to put together a much larger automotive company – McShaw Automotive. Though this firm, we are in tyres, tubes, lubricants and will go into automobile agencies, etc," he said. He also added that if there are areas for expansion in auto assembly or any other related fields, McShaw will explore these options as well.
As for RHL buying into Shaw Wallace Ceylon Ltd early this year, Mr. Rajiyah noted that this was a good fit for the company which was looking to acquire a distribution arm at the right value. "Shaw Wallace Ceylon is unique that it has more than 70% of their sales outside the Western province and we supply more than 65,000 outlets directly and some 100,000 outlets indirectly. Further 70% of Shaw Wallace sales are from our own brands." He said Shaw Wallace Ceylon is a corporate icon, nurtured by a lifetime of trust and conviction among the millions of Sri Lankan's who grew up with its products.
Shaw Wallace's FMCG brands include Captain and Plaza tinned fish, Sun Gold instant drinks, Rainers colourings and essences, Ranposha breakfast cereal, Milk White laundry soap, Ranwan Venivel herbal soap and agencies such as Ajinomoto flavour enhancer, Supermax shaving products, etc.
"We also recently formed a company called Shaw Wallace Food Services Ltd through Shaw Wallace Ceylon Ltd to establish a fully fledged food services arm," Mr. Rajiyah said. He said that this was done to benefit from the underlying opportunity of the current tourism boom. He added that they are gearing to set up a manufacturing plant for Shaw Wallace.
Mr. Rajiyah explained that Shaw Wallace has a vast portfolio of brands (some not in use in the recent past) and that the company is on a journey of expansion and growth to extend its product portfolio and unlock brand values. "Today, under Renuka, Shaw Wallace possesses manufacturing capabilities (unlike earlier)," he explained.
Mr. Rajiyah added that RHL will forge ahead with its portfolio management activities, investing in the stock market, private equity projects through Coco Lanka. "We're also looking to develop our portfolio of properties. We're initially looking at commercial projects in Colombo," he added.