JAFFNA- With the influx of local and foreign travellers to the North, the Jaffna town is regaining prosperity slowly but surely from the vast destruction of a 30-year conflict. People are keen to continue their hard work either in cultivation, trade or any other business with great commitment and enthusiasm, a senior official of the Jaffna Government Agent's office said. Residents know how to earn their living and they should be allowed to continue their vocations without any interference to their work, he added.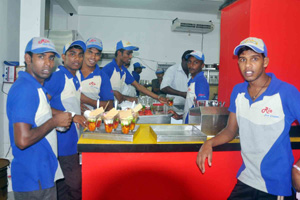 Staff at the Rio Ice Cream parlour
A group of around 40 journalists from Colombo-based media including the Sunday Times visited Jaffna for a Sri Lanka Telecom project and were provided an opportunity to visit several important places in Jaffna including the Jaffna Fort, the Naga Vihara, Nallur Kovil, boutiques and shops in the outskirts of the town. Small vendors were seen selling food items by the side of the roads in Jaffna town. They are earning a sizable income by selling Jaffna grapes, gram, Palmyra juggery, Nelli syrup and some commodities like dry fish. These traders said that they have a good business, mainly from southern travellers.
Selling ice cream on a large scale has become a lucrative business in regaining Jaffna. Situated next to the sacred Nallur Kovil, Point Pedro Road in Jaffna, the Rio Ice Cream Parlour provides the ultimate ice cream experience for all visitors to Nallur ovil and residents in Jaffna. It sells 40 different ice cream varieties with more than 10 flavours.
Rio Ice Cream has different flavours, colours, sizes and various toppings such as nuts, syrups, plums, candy, powders, prepared fruit toppings, frozen fruit and cookies. Rio Ice Cream has been rewarded as the best ice cream parlour in Jaffna by the Jaffna Municipal Council.
Some 25 young men and women are working at this unit which attracts around 500 customers per day and this number increases during the Nallur festival, a manager of Rio Ice Cream said.
People in the South are mainly contributing to Jaffna's economy by shopping, staying in their guesthouses and eating from shops and boutiques. They were there in their numbers, whether it be at the Jaffna Public Library, the Jaffna Fort, the Naga Vihara, in boutiques, in shops, in the outskirts of the town and on the road to Jaffna, in buses and in vans; they were there in large numbers, like a family picnic. With the sudden increase in business in the peninsula, shops in Jaffna which normally closed by 7.00 pm are now kept open till late night. "Some 1,000 to 1,500 visitors from the south now visit Jaffna daily along with some foreign tourists," the official said.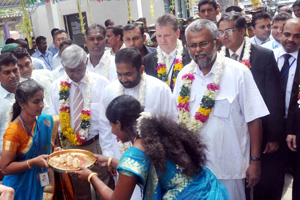 Launch of the SLT project
However the biggest problem is the lack of accommodation. But enterprising Jaffna citizens are hastily converting their homes into restaurants and guest houses to cater to the increased demand. An ordinary room without food costs around Rs.500 per day and a hotel room charge has now shot up to around Rs 2,600 to Rs. 3,000, a hotel manager said. The Jaffna Gnanam and Subash Hotels are now back in business after being renovated following the end of the three-decades old conflict. The famous Gnanam Hotel on the Clock Tower road in the middle of Jaffna city recommenced its service for guests in May this year. The hotel which was fully renovated to cater to the needs of guests provides many facilities to its customers in addition to food and lodging.
The hotel has 30 comfortable rooms including some family rooms with quick access to working staff through intercom system and Internet facilities. Officials said that a large number of former Jaffna residents living in other parts of the country and abroad were visiting their families now with the restoration of peace in the north, reopening of roads and the restoration of transport facilities.