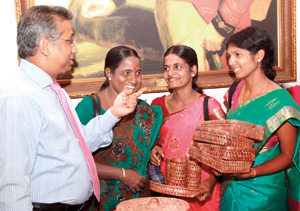 Hotel GM Anura Dewapriya with some of the artisans
Sri Lanka's Mount Lavinia Hotel recently accepted a "large quantity order" comprising rurally-produced Palmyra products, custom designed for the hotel by artisans from the Jaffna Pungudutivu Island and Mannar areas, according to a joint statement by the hotel and Colombo-based Academy of Design (AOD), the initiator of the "Design for Sustainable Development" project, under which this project, overseen by the Palmyrah Development Board, falls.
Quoting unnamed artisans, the statement also alluded to a four fold increase in monthly income while, at the same time, suggesting that the per-hour rates for artisans had been upped from Rs. 8 to Rs. 50. Also noted, there was no steady income before this project was initiated.
The statement also quoted the hotel's General Manager, Anura Dewapura, as saying: "We were delighted to place an order for the products made by these artisans, not only because it helps to establish better livelihoods for them, but also because their new products are specificially designed for our purpose and curated by the project set up by AOD which makes the entire project feasible."
AOD Managing Director Linda Spledewinde noted that: "This marks the beginning of the involvement of Sri Lanka's hospitality industry with rural livelihood development and thereby becoming a part of the national development agenda through a new angle. We're confident that other leaders in the hospitality industry will join hands with us too."