Commercial Credit has launched its Strategic Growth Plan under the theme 'Winning Strategies – A new era of excellence and Teamwork'. The 3-year plan focuses on increasing the company's stellar performance to new and unprecedented heights as it pursues its goal of becoming the number one finance company in the country, the company said in a press release.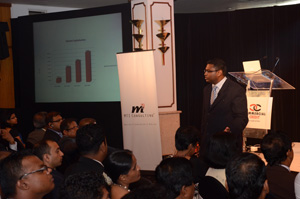 Picture shows Andrew Samuel, DGM-Corporate Planning, speaking at the launch.
It aims to extend the company's current track record of success, demonstrated by a 1457% increase in pre-tax profits for the year ending 2011, compared to the previous year ended March 2010. The company also saw a sharp rise in profits from Rs. 15.9 million for the first quarter of 2010 (April – June) to Rs. 192.9 million for the corresponding quarter of 2011.
Speaking at the launch of the new plan, company CEO Roshan Egodage pointed out that other indicators of the company's performance include a Fixed Deposit base which has grown from Rs. 840 million to a staggering Rs. 4.5 billion within just two years, an equally impressive growth in the asset base from Rs. 688 million to Rs. 5.3 billion and an investment increase from Rs. 50 million to Rs. 800 million per month.