Most motorists driving around in Colombo consider trucks to be too slow, buses too aggressive and trains to get in their way. It seems that we all forget that these same vehicles bring thousands of people and material that may in fact be the reason we even have a job in the city to which we can drive.
Colombo has a resident population of 600,000 people, but just under a million people enter and leave the city daily for work, business, education, shopping, entertainment and recreation. Of these people, approximately 54 % arrive by bus, while 12 % arrives by train. The buses carry 450,000 people in a fleet of around 6,000 buses, while it takes around 225,000 private vehicles to bring the balance 350,000 people.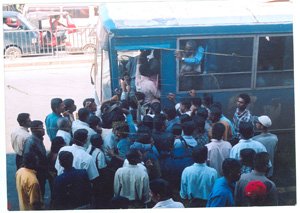 The buses carry 450,000 people in a fleet of around 6,000 buses, while it takes around 225,000 private vehicles to bring the balance 350,000 people.
Everyone yearns to arrive to work by car as that alone signifies comfortable travel today in Colombo. But that would mean the need for a million vehicles to enter the city. That is three times of what it is today. Alternately, we must have more people reside within Colombo making it a compact city, where people can walk or cycle to work and school. Not addressing the city's travel needs will restrict the supply of people to the centre of the city, as it did in the 1990s, which led to a wave of migration of businesses to Maharagama, Kiribathgoda, Nawala, etc. This is a first step of the failure in structural form in a city, precipitated by the collapse of an inaccessible centre. As businesses move out in an unplanned manner, the roadside activity levels also increase making roads even slower, thus further reducing the number of commuters willing to travel to Colombo.
Thus in a city like Colombo where road transport access is limited, buses and trains spell sustainability while private vehicles bring issues of pollution, congestion, accidents, noise and parking along with them. While many city administrators in the past have spoken of car parks, street widening and traffic signals, none has come close to demonstrating and understanding the dependence the city has on public transport. The equation is very clear; more cars arriving in the city, means arrival of less people!! So for the next mayor of Colombo it is a choice between attracting more people or more vehicles to the city!!
This will require bold decisions as the city has had no interest to develop public transport in the past. The Colombo Municipality (CMC) has by and large rescinded this to the national and provincial authorities. However, the once popular bus terminals such as Fort, Lotus Road, Torrington, Town Hall, Slave Island, Clock Tower that the CMC could have preserved have all been 'terminated' in order to give way for private vehicular traffic. The main bus terminals in Colombo has got overloaded and remain largely an under developed national embarrassment to a country aspiring to be an international transport hub! Bus stops too have moved entirely at the whims and fancies of those interested only in making cars travel faster. Inter modal connections between rail and bus such as at Bambalapitiya and Kollupitiya have been severed effectively by the new one-way system. All of this happens, while the CMC and its Mayors have stood by without raising a single protest or concern for its primary transport systems or their users.
Worse is the situation for goods transport. The trucks that businesses so very much have to rely on have been a forgotten entity. No facilities such as warehouses have been developed in the city for decades. The Manning market where vegetables are handled and the Cross Streets in Pettah where wholesale trading takes place deserve a visit to see how goods transport happens in Colombo. The entire system relies on management methods and technology of the early 20th century and is very similar to the operation of the bus terminals in Pettah which too is largely controlled by the local mafia. No Mayor to date has found the courage to lead a development effort to provide a more efficient truck or bus operation in Pettah. Late evening bus services in the city have deteriorated making evening recreation only for those using private vehicles and BPO industries struggling to turn over shift workers. Overcrowding and poor service have made bus use intolerable. There is no public information or even a bus route or a single time table available for public consumption. The list goes on.
Providing private vehicle transport costs approximately 10 times more than even a poorly run public transport system. It is eventually reflected in Colombo's competitiveness in the region. This is in contrast to many cities in India that are being planned to be more efficient and less costly, where transport planners are endeavouring and are allowed to develop well balanced and integrated urban transport systems. Improved city transportation is vital for retaining the city's advantage as a choice for business location.
Colombo's success over the last three 300 years has largely been due to its efficient transport systems. With the opening of the Suez Canal, the Port of Colombo became a popular sea port and a logistics centre for import and exports. This was the primary industry of Colombo till recently. The inland transport hub adjacent to the port started with the canal system during the Dutch period. It was complemented by the railway system, the highway system, the trucking network and the bus networks during the British period leading to strengthening of Colombo City as an efficient trading and administrative hub well served by multiple modes of transport. By the mid1950s Colombo was to boast of one of the best seaports and land transport systems in Asia, with even the CMC operating tram cars. There were buses, trolley buses and railways to choose from and much of it was equal to the state of the art in Europe and ahead of almost all of Asia. Over the years, the neglect of Colombo's transport system has led to the city becoming economically inefficient and now identified as one of the least livable cities.
What the new Mayor should also know is that while half of the city households become users of the transport system, the other half becomes providers. This is also a unique situation in Colombo. Of the 300,000 motor vehicles registered in the city, nearly 40,000 are three wheelers. Most low income households in the city own and hire a three wheeler. There is electoral pressure to secure their livelihood by giving priority for them at important junctions, at top of streets, often causing severe traffic constraints. There will be pressure to resist more formal and efficient transport systems that could un-employ breadwinners of these households. There are also several thousand nattamis, brokers, loaders, runners, drivers, cleaners, helpers, etc who are all part of the logistic system in Pettah. They too may not survive change and need to be considered empathetically.
The bold plans that are revealed for Colombo are encouraging after years of stagnant development. However the lack of attention given to sustainability is a concern. For example, the proposed new Port City overlooking the Galle Face, will add its own traffic burden to the city roads and the need for it to connect to the existing public transport systems is key to mitigating such negative effect. The ongoing lease of underutilized state lands to facilitate commercially beneficial purposes makes perfect sense, but then again, these hotels, offices and similar activities will attract many more people who in most cases will travel in private vehicles. There is also still no proper plan to handle the tripling of container volumes expected with the South Port development. Only if the railways can come to the rescue will the roads be spared from having to carry three times as many containers as now. Consider also the Katunayake Expressway that will within five years bring an additional 50,000 vehicles to the city causing more congestion within the city. Of course, the promises of more elevated roads, flyovers and expressways are the well marketed myths as solutions for all transport problems.
Will the next Mayor of Colombo be a bold and refreshing champion of transport-led development that will ensure it is sustained as well? Could he be just like mayors such as Ken Livingstone who pioneered 'Transport for London' or Penalosa in Bogota in Colombia who took on the car lobby, or a Jamie Lerner of Curitiba who has earned world exclaim for creating the wonder city of Brazil?
Next article: What you should know about Development and Expressways.
(The writer is Senior Professor at the Department of Transport & Logistics Management at the University of Moratuwa. He can be reached at prof.kumarage@gmail.com).