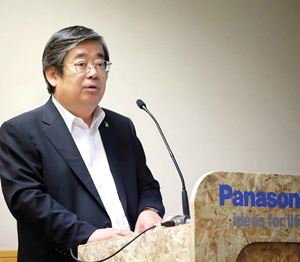 Mr. Yorihisa Shiokawa
Panasonic Corporation's Managing Executive Officer of the Corporate Management Division for Asia and Oceania, Yorihisa Shiokawa, is due to visit Sri Lanka to attend the Panasonic Eco Convention, an event introducing Panasonic's range of technologically advanced environment friendly "Eco" range of consumer electronics appliances.
Mr. Shiokawa, also the Managing Director of Panasonic Asia Pacific is expected in Sri Lanka during the end of September 2011 for this event and will together with Softlogic, the authorized distributor for Panasonic in Sri Lanka, launch the Panasonic Eco Convention, according to a Softlogic statement.
Mr. Shiokawa would be the senior-most Panasonic official to visit the country. "This is a clear testament of Panasonic's keen commitment to the local market to expand Panasonic's business substantially and bring technologically superior world-class products to the local consumer," the statement added.