ZAAMAR, Mongolia, (AFP) - In the dead of winter, Chuluuntsetseg sits by the banks of the Tuul river west of the Mongolian capital Ulan Bator, pouring boiling water over rock sediment in a green plastic tub.
As her colleagues watch, she excitedly pulls a shiny speck from the water. After an hour of hauling buckets of earth from man-made pits and painstakingly sifting their contents, the 49-year-old woman has literally struck gold.
"It's worth about 8,000 tugrik," or just $6.40, she says, as she flicks her find into a small pill container.
On average Chuluuntsetseg, who like many Mongolians uses only one name, and her friends find about $60 worth of gold a day -- not a bad take in one of Asia's poorest countries.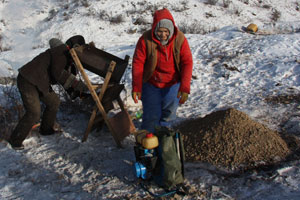 A Mongolian "ninja miner" preparing to start mining for gold by the banks of the Tuul river west of the Mongolian capital Ulan Bator. AFP
She is one of the country's tens of thousands of "ninja miners" -- so named because the green tubs strapped to their backs bring to mind the 1980s sewer-dwelling superhero Teenage Mutant Ninja Turtles.
The ninjas -- mainly unemployed youths or herders who lost their livelihoods due to extreme winters in recent years -- are operating all over the country, and causing problems for a government trying to manage its vast mineral riches.
Reports have put the total number of illegal miners at 100,000, but Patience Singo, a technical expert for a sustainable artisanal mining project funded by the Swiss Agency for Development and Cooperation, says that figure is likely a conservative one.
"People are hungry, people need food. If there is not another option, they are going to get into artisanal mining," Singo told AFP. "This work supports about 300,000 people." Illegal mining emerged as early as the 1990s in Mongolia, when the country shook off decades of communist rule and launched its shift towards a market economy -- a difficult process that has led to high unemployment.
"The government attitude has traditionally been one of ignorance. They thought it was a temporary phenomenon that would come to an end," Singo said. Instead, the practice has blossomed, with entire towns like Zaamar -- about a five-hour drive west of the capital -- dependent on illegal mining.
A 2006 report by the International Labour Organisation on informal gold mining in Mongolia revealed that the industry was plagued by health and work safety problems, and had created a spike in illegal child labour.
But the country's enormous untapped deposits of copper, gold, uranium, silver and other minerals mean the ninjas are unlikely to hang up their green tubs any time soon. Tomin-Erdene, 24, says he began his career sifting for gold in Zaamar when he was just 16 years old. Now, he is known in the town as "King Ninja" -- he claims that he has made more than $1,600 since he started.
In a country where more than a third of the population lives below the poverty line, according to the World Bank, that is a veritable fortune. But it comes at a price. "In the winter, people commonly use explosives in the pits. That's pretty dangerous," Tomin-Erdene told AFP. Clashes with the police, who are trying to crack down on the industry, are another job hazard.