It was sometime in mid-2007, a few weeks after A. Raja replaced Dayanidhi Maran as the Union communications and IT minister, that he told a political friend travelling with him by train, "The family will discard me one day. They are feuding now, and therefore, I have benefited." Prescient lines from a loyal and shrewd party worker who had observed the workings of the DMK and the Karunanidhi family and understood perfectly well that 'the party is a family, and the family is the party'.
This enduring insecurity, it is believed, made Raja seek patronage from one wing of the patriarch's family—Rajathiammal, Karunanidhi's third wife, and her daughter Kanimozhi, known to nurse an antipathy towards the Marans. Raja's decline — the opprobrium brought by the leaked Radia tapes and his eventual arrest in the 2G spectrum scam — has its origin in that alliance. It's not as if the particular choice led to his downfall. What did him in was the haste with which he tried to build an independent empire for them, and his brazen policy violations in the 2007-08 allocation of 2G spectrum licences, motivated by his ambition to secure a position for himself on the Karunanidhi party-family map.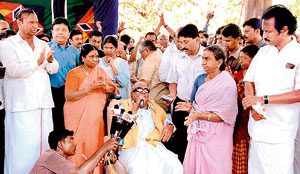 Family matters: Karunanidhi with family members and party workers at a public function
It is this background one must keep in mind while taking in the rumours in Chennai about the stashing away of the 2G scam kickbacks. What is heard in political circles within and outside the DMK pertains to the "sudden growth" and "greed" of one wing of the family after Raja became communications minister.
No one is brave enough to hint at, leave alone name, possible recipients.
But there's a ballpark kickback figure being bandied about — Rs 2,400 crore, drawn in equal share from six companies. It's said most of the money was routed through time-tested banking channels used for shady deals. According to a source, the investigating agencies have got on the trail and are probing the accounts of Kalaignar TV, and DB Realty, a beneficiary of Raja's 2G largesse that made a roundabout, unsecured loan of Rs 206 crore to the former. The channel was started when relations between the first family of the DMK and the Marans soured. With offices at the DMK headquarters in Anna Arivalayam, Chennai, it was positioned to take on the mighty Maran-owned Sun TV.
Nearly 60 percent of the shares in the TV channel are held by Dayaluammal, the second wife of Karunanidhi and mother of M.K. Stalin and M.K. Azhagiri. Twenty percent is held by Kanimozhi, and another 20 percent by Sharad Kumar, the managing director. Amritham Periyanayagam, brother of the late Murasoli Maran, is on the board of directors. "That Kalaignar TV received this loan (from DB Realty) makes one wonder if Karunanidhi was aware of Raja's telecom dealings," says the source.
What has appeared in the media so far is quite baffling: both Dayaluammal and Kanimozhi have said they knew nothing about the unsecured loan from DB Realty through a three-fold transaction involving companies in which it had stakes. "It's hard to believe that such a loan was secured without shareholders holding 80 percent even knowing," says M.R. Venkatesh, a Chennai-based chartered accountant who has written books on corruption and the failure of India's financial sentinels. Unsecured loans, according to Venkatesh, are a standard route taken by many business houses to legitimise illegal transactions. Such loans are never paid back, and the lender, over a period of time, writes them off as bad debts.
Also worth examining is the company that lent the money, through a web of other companies, mainly its subsidiaries. Chartered accountants say it is questionable for a realty firm listed in the stockmarket as dealing in real estate to loan money through routing agents, or some sort of subsidiaries, which on paper may claim to be in the lending business. They say it would be worth examining whether DB Realty and other companies linked to it have offered such loans before — if there's a record of such transactions. Also worth investigating, they say, is why DB Realty lent money to Kalaignar TV alone, and moreover, through a process that put it at two removes from the ultimate transaction — money moved from DB Realty to Kusegaon Fruits & Vegetables, on to Cineyug, and then to the channel.
Venkatesh points out that, according to the Prevention of Money Laundering Act (PMLA) 2002, transactions involving "politically exposed persons" ought to come under even more stringent levels of scrutiny-which should have been the case with Kalaignar TV transactions, patronised by a political party and the family that controls that party.
Perhaps in the coming days, all this will come to light. Kalaignar TV is said to have returned the loan with interest — some say after things got hot, at eight percent — presumably to avoid questions during the investigation. But it has inadvertently betrayed the nexus.
It is also interesting that Kalaignar TV was announced in June 2007, apparently with a paid-up capital of Rs 1 crore, and was set up at record speed — in about three months. Around that time, Raja, in the ministry of communications and IT, was seen to be in a tearing hurry, bending rules and doling out favours to various companies, even permitting real estate companies to turn telecom operators.
On September 24, 2007, he issued a controversial press release announcing the cut-off date for issuing 2G licences on a dubious first-come-first-served method, and in the first week of October, he allotted dual licences (for both CDMA and GSM technologies) to three companies — Tata Teleservices, Reliance Communications and Sistema Shyam. This was done at 2001 rates, and without approval from the Union cabinet.
Given all this, the big question in Chennai political circles now is whether 'spectrum money' was even deployed to launch Kalaignar TV. A television professional points out that within weeks of its launch, Kalaignar TV was picking up popular and big-budget films like Rajnikant's Sivaji and Kamalahaasan's Dashavataram.
"Given the limited size of their authorised and paid-up capital, and given the fact that TV channels take a long time to make profits — at least three years — it was most astonishing that Kalaignar TV could go on such an expensive buying spree," he says. Though Kalaignar TV was doing this to compete with the rival Sun TV, rumours gained ground about how the operation was being bankrolled, and by whom.
There are also a lot of questions being asked about some dubious real estate investments. Talk is that some of the spectrum kickback money may have gone into the purchase of hotels and a mall in prime localities of Chennai; into properties in Ooty, the Nilgiris, Dubai, Singapore and Malaysia; into a logistics company operating at the Chennai and Tuticorin ports; and even into mining interests in India and abroad.
With assembly elections scheduled in Tamil Nadu for May 2011, there are wider political ramifications of the talk of 2G kickbacks.
Already the opposition parties feel that the "per-vote rate" in rural Tamil Nadu has gone up. "This whole crisis has created a sense of desperation in the DMK, and it will do all it can to win-and anyway it has money to spend," says an opposition leader. But Cho Ramaswamy, a veteran political commentator, thinks otherwise: "There is anger and disgust among the people. They'll vote the DMK out. Also, the DMK alliance itself could face problems; and factions within the party are a problem too. To retain autonomy, the DMK may undercut votes in Congress constituencies. Plus, Azhagiri may try to get his brother Stalin's candidates defeated to gain control in the party," he says.
For now, Karunanidhi, the DMK patriarch, seems to have maintained a semblance of balance in the party and in his warring family. "As a clear signal to the rest in the clan, he has stood by Raja and Kanimozhi. Taking Kanimozhi along when he went to discuss the poll alliance with Sonia Gandhi in Delhi recently was a clear message to Azhagiri that he must stay clear of this particular strand of the family. Azhagiri was making a lot of noise in January, but has quietened down now," says a political observer. However, Raja and the Rajathiammal wing of the family carry an unenviable burden. If the DMK loses the elections, everybody knows at whose doorstep the blame will be laid.
A Spiral of proxies
How the scam landed at Karunanidhi's doorstep
1. Dynamix Realty, owned by 2G beneficiary DB Realty, transfers Rs 209.25 crore in an unsecured loan to Kusegaon Fruits & Vegetables, now known as Kusegaon Realty
2. Kusegaon Realty transfers Rs 206.25 crore as a loan to Cineyug Films
3. Cineyug in turn gives an unsecured loan to Kalaignar TV
4. Cineyug says Kalaignar TV has returned the money
Why DB Lent Only To Kalaignar TV? Questions:
Is DB Realty also a money-lending company?
How much have DB Realty or its subsidiaries lent to companies/ individuals in the past?
Why did it choose to lend money to the just-born Kalaignar TV?
Were the promoters/ shareholders of Kalaignar TV aware of the loan advanced to them?
Is the transaction reflected in DB Realty's balance-sheet?
Why was a proper deal not hammered out before the money was lent?
Courtesy Outlook, India