There were lots of things to be afraid of in Baghdad in the bad old days - kidnapping, beheading, truck bombs - but nothing scared me more than trigger-happy Americans who careened out of the Green Zone, ready to shoot anybody and anything they saw as a real or imagined threat. Many were not soldiers, but private security guards under government contract who could, and did, kill with impunity - seemingly a law unto themselves.
On a recent visit to Pakistan, I found a country rife with conspiracy theories in which Americans are most often the villains. Blackwater plays a major role in Pakistani fears, no matter how it endeavours to change its name.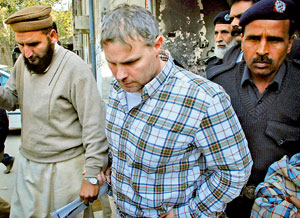 Raymond Davis is escorted by police and officials out of the Lahore court. Reuters
Some of these conspiracy theories are fantasies, but in the curious case of Raymond Davis, all of Pakistan's nightmares about Americans have coalesced. And this flame is fanned by the American refusals to reveal what Davis was supposed to be doing.
The facts are few and mysterious. Davis, 36, an employee at the American consulate in Lahore, was driving through town with a fully loaded Glock automatic pistol. Two men approached his car on a motor bike, Davis says, with intent to rob him. They were found later to have stolen cellphones.
Davis opened up on them with his Glock through the windshield and killed them both. Then he apparently stepped out of his car and photographed their dead bodies before he sped away. He was later arrested.
The case was further complicated when another car sped out of the consulate, apparently coming to Davis' rescue, killed a Pakistani on a bicycle and sped back to the consulate. Neither the car nor the driver have been produced for the Pakistani authorities to question or inspect.
The Americans claim diplomatic immunity for Davis under Geneva Convention rules, and they are right by their lights. But Pakistani law says that Pakistan has a say in who has diplomatic immunity and who does not, and Pakistan deserves a full explanation.
There the matter stands, with the Pakistani courts threatening to try Davis for murder. The prosecution is saying that the shootings were not in self-defence. The Americans are hinting darkly that Pakistan will suffer dire consequences, cancelled visits to Washington and a cut in financial aid.
In the meantime Pakistan is in a spasm of anti-American fury. The question of what an American "diplomat" was doing with a loaded gun, ready to use it, in the streets of a Pakistani city needs a lot more daylight than the Americans are providing.
And, yes, it turns out that Davis was not a member of the U.S. Foreign Service, but a gun-for-hire private operative attached to the "technical and administrative" staff of the consulate, according to the U.S. Embassy.
We all know that the business of private security has ballooned in recent years under very lucrative government contracts. The employees are often Americans, Britons and South Africans with military experience who can put their training to work for a great deal more money than usually awaits them in a fully civilian job. We also know that with U.S. forces stretched to the breaking point, these mercenaries, unhappily, play a major role in guarding American installations and embassies abroad that were once guarded only by U.S. Marines.
But in case after case, these private operatives have used lethal - and not always justified - force, and it is not clear whose laws they are under. Hamid Karzai tried to have them all fired from Afghanistan, but couldn't do it, so important were these private guns to the American war effort.
The case of Raymond Davis plunged into even deeper mystery when the Pakistanis say they found maps on him of high security installations. The Pakistanis are suggesting he may have known the men whom he killed. The Americans, in the meantime, refuse any further explanation of his activities. The Lahore High Court won't let the Pakistani government turn him over to the U.S. Embassy until they have ruled on his diplomatic status.
The Davis killings have resonance with a population already infuriated by the frequent drone attacks that often kill as many bystanders as militants. What is "collateral damage" to Americans is extra-judicial murder to many Pakistanis.
The image of the careless American gunslinger is ingrained around the world through our greatest cultural export, the movies.
The best outcome would be for the Pakistanis to hand Davis over to the Americans under the terms of the Geneva Conventions, with the Americans giving a full explanation of what Davis was doing, and a worldwide crackdown on these private operatives who kill again and again with impunity or immunity.
And America should stop threatening Pakistan with loss of aid. The aid serves U.S. interests, not just Pakistan's.
Pakistan court delays immunity ruling
LAHORE, Pakistan, Feb 19 (Reuters) - A Pakistani court on Thursday delayed until next month a hearing into the diplomatic immunity of an American who killed two local men, a case that has pushed ties between Islamabad and Washington toward a breaking point.
The postponement to March 14 will likely exasperate the Obama administration, which has urged Pakistan to free consular employee Raymond Davis and avoid setting a precedent for trials of U.S. officials abroad.
The High Court in the city of Lahore granted a government request to postpone the hearing on whether Davis, a former special forces soldier who shot and killed two men on Jan. 27, is protected by diplomatic immunity.
Davis, who is assigned to the U.S. consulate in Lahore, has said he was acting in self-defence during an armed robbery in the city. White House spokesman Jay Carney said the United States remained focused on ensuring Pakistani authorities respected Davis's diplomatic immunity and securing his release.
Pakistan is crucial to the success of the U.S. strategy in neighbouring Afghanistan, where lawless western border regions are safe havens for Islamist militants targeting U.S. troops.
Arrest sought of US driver
LAHORE, Pakistan, Feb 19, (AFP) -The brother of a Pakistani killed by a US consular vehicle in Lahore after a shoot-out which killed two other men went to court Friday to demand the driver be arrested.
The incident has already racked up tensions between Islamabad and Washington, with the US demanding the release of the gunman, Raymond Davis, saying he was acting in self-defence and has diplomatic immunity.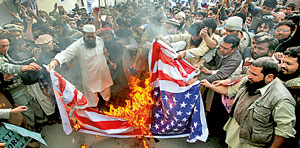 Pakistanis burn a U.S flag during a protest against U.S. citizen Raymond Davis near the U.S consulate in Lahore. Reuters
Aijazur Rehman, whose brother Abadur was run over by a car sent to rescue Davis, is seeking the arrest of its driver, who has not been identified, and the surrender of the vehicle. His lawyer Nauman Atiq told AFP that Rehman was not satisfied with the police investigation.
"Police is telling us that they cannot arrest the driver or recover the vehicle because they cannot go inside the consulate," Atiq said.
The case threatens to open a second front in the diplomatic struggle over the deaths, which have left the unpopular government in Islamabad under huge domestic pressure not to be seen as kowtowing to US demands.
Courtesy New York Times