Prince William named his rumbustious brother Harry as his best man on Thursday, but banned him from arranging a raucous stag night. The groom-to-be broke with royal protocol by abandoning the traditional label 'supporter' used by his father and uncles - Harry is understood to have joked that he would refuse to participate unless he was awarded the 'best man' tag.
Kate Middleton, meanwhile, has asked her sister and confidante Pippa to be maid of honour at the Westminster Abbey wedding on Friday, April 29. But while Pippa, 27, is likely to plan a girls' night in to avoid any pre-wedding controversy, Harry had originally been plotting a wild evening out in London to celebrate his brother's 'last night of freedom'.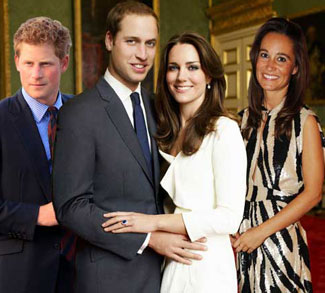 Harry, William, Kate and Pippa: Key stars at the Westminster Abbey wedding
Harry, 26, has recently returned to his old habit of tumbling out of nightclubs looking dishevelled on nights off from training to be an Apache helicopter pilot at RAF Middle Wallop, in Hampshire.
At the weekend he was pictured puffy eyed and with his shirt gaping open after emerging at 3.30am from a burlesque show at a Soho gay bar, where he had partied with a harem of blonde girls. A week earlier, he drank cocktails with on-off girlfriend Chelsy Davy for five hours before the pair climbed into a car boot together to avoid being pictured.
Friends said suggestions for William's stag night had ranged from another saucy burlesque act to exclusive use of close friend Guy Pelly's club Public, a regular celebrity haunt. But William, 28, is thought to have insisted on a 'private' and 'more mature' long weekend outside the capital. Options include a shooting party on a friend's estate, or an 'outdoor pursuits' weekend including activities such as quad biking and archery, with an evening spent at a pub.
Foreign jaunts have been ruled out for both the stag and hen nights because of the complex security involved and the risk of a public backlash over costs, it is understood. And the royals are keen to avoid the controversy provoked when William flew a Chinook to his cousin Peter Phillips's stag night on the Isle of Wight at taxpayers' expense.
On Wednesday, William and Kate used Facebook and Twitter to release details of their bridesmaids and page boys. Pippa, who is Kate's closest ally and 'gatekeeper', will be tasked with looking after her dress and calming pre-ceremony nerves.
The ambitious Edinburgh graduate has worked as a party planner and is employed by her parents' mail order firm Party Pieces, where she runs the online magazine Party Times. The bridesmaids will be Prince Edward's seven-year-old daughter Lady Louise Windsor, Princess Margaret's granddaughter Margarita Armstrong-Jones, eight, the Duchess of Cornwall's granddaughter Eliza Lopes, three, and William's goddaughter Grace van Cutsem, also three.
William has rewarded his loyal palace staff by asking the children of his former nanny and his chief wedding planner to be page boys. Tom Pettifer is the eight-year-old son of the former Tiggy Legge-Bourke, and ten-year-old Billy Lowther-Pinkerton is the son of William's ex-SAS private secretary Jamie, 50.
Choosing Harry as best man came as no surprise - but William has overturned royal tradition by having only one person and eschewing the term 'supporter'. Prince Charles had his two brothers as supporters in 1981 and Prince Edward did the same in 1999. Prince Andrew had one man - Edward - in 1986, but still called him a supporter.
William is thought to consider the supporter label outdated.
© Daily Mail, London
Kate shows off her cleavage and belly button piercing... in a portrait on sale for charity
The ever-demure Kate Middleton makes her second official visit next week -- to the University of St Andrews in Fife where she first met her future husband. But while people will be lining the streets of the Scottish town to catch a glimpse of their future queen, visitors to the Braewell Gallery in nearby Edinburgh will get much more of an eyeful.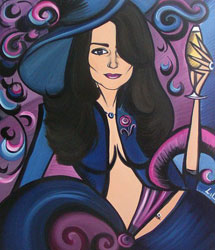 'Kate Waits:' The portrait, complete with sapphire belly button stud, goes on show next week in Edinburgh
Glasgow-based artist Laetitia Guilbaud's painting shows Kate in an open blue jacket -- clearly inspired by the dress she wore to announce her engagement -- which shows a lot of cleavage and even a sapphire belly button ring.
The blue and white stud, and a pendant around her neck, mimic Kate's already world-famous engagement 14-diamond-and-sapphire ring, which was also the late Diana, Princess of Wales' engagement ring.
'Kate Waits' -- by the same artist who famously depicted Scotland's Deputy First Minister Nicola Sturgeon as 'Naughty Nicola' -- goes on display on the same day that Kate and Prince William will kick off St Andrews' 600th anniversary celebrations. Kate Middleton and Prince William studied history of art together at the University and shared a house in the town.
The Prince, who later switched to geography for his degree, has been appointed patron of the university's fundraising appeal. Guilbaud's painting is on sale for £1,200. Part of the proceeds will go to the charities William and Kate will nominate for wedding donations.
The French painter, who has made her name depicting famous women -- such as Samantha Cameron, Carla Bruni and Lorraine Kelly -- said the belly button sapphire was symbolic. 'It is meant to symbolise that she will, in effect, be part of the Royal stud - expected to produce an heir to the throne just like Diana, hence the use of her sapphire,' said Guilbaud.
'I am fascinated by Kate because we are only really starting to get to know somebody who will one day be our queen - yet despite being around William for seven years or so we have no real knowledge of her personality, we have not seen the inner Kate yet.
'I think she is very strong and a good support, and a perfect match for William. But there is more to her than has so far met the eye.'
The couple will go to Canada for their first trip abroad
Prince William and Kate Middleton will go on a nine-day tour of Canada for their first official overseas tour after their wedding. They will visit Alberta, the Northwest Territories, Prince Edward Island, Quebec and the National Capital Region, from June 30.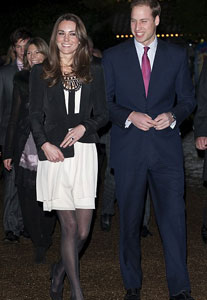 First official visit: Kate Middleton and Prince William are expected to fly to Canada in June where Kate will be introduced to the nation
Despite polls suggesting Canadians are ambivalent towards the monarchy, the pair are expected to be mobbed by fans. Canadian Prime Minister Stephen Harper welcomed the news, saying:
'Their decision to come to Canada first is a testament to our country's very close relationship with the Royal Family.'
Meanwhile, Prince Charles's friend Hugo Burnand, 47, was unveiled as the official photographer for the wedding on April 29. He covered Charles's wedding to Camilla in 2005.
Prince William was pleased to accept an invitation on his and Miss Middleton's behalf from the government of Canada.
'Prince William was keen to be able to visit Canada for himself as an adult, and to be able to show his wife a country that is close to his family's heart,' said a statement.
Prime Minister Harper invited the couple to Canada after they announced their engagement last November, and he is likely to host an official banquet in their honour.
Mr Harper commented: 'Canada is delighted that Prince William and Miss Catherine Middleton will be travelling to Canada as they embark on their first overseas tour as a married couple.' © Daily Mail, London