When John James left $100,000 worth of jewellery and valuables in a New York taxi after he was dropped off at the city's National Arts Club, he thought he would never see it again. But thanks to the honesty of the cab driver who discovered the hoard in the back of his cab, he has now been reunited with his belongings.
Zubiru Jalloh, who earns $300 a week working 12-hour shifts, made the incredible find when he went to help his next customer into his cab. Among the items were cash, jewellery belonging to members of James' family and photographs of him with the late British broadcaster Alastair Cooke, actress Sylvia Sidney and writer Dominick Dunne.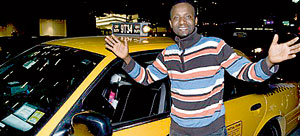 Honest: New York cab driver Zubiru Jalloh discovered the $100,000 haul, which included cash and jewellery in the back of his taxi
Jalloh told the New York Times that he took the bag home with him for safekeeping and showed the hoard to his wife - but then instructed her to lock it away in a cupboard out of reach of their youngest child.
'I said, 'It doesn't belong to me,'' he told the paper.
The 42-year-old cabbie, who moved to America from his native Sierra Leone in 1998, added that it would have been against his Muslim faith to keep the items for himself. 'I believe in my religion,' he said. 'Taking someone else's property is like eating someone else's flesh, I can't do it.'
He said that he was confident James - whose twin brother O Alden James is president of the National Arts Club - would get in touch as he had given him a receipt for the $9 fare. And after he did eventually track him down, with the help of a friend in government and the New York Taxi Commission, the cab driver met James outside the club and returned his valuables to him on Monday.
Jalloh reluctantly accepted a reward of $1,000 for his honesty, although he turned down an invitation to the club's Valentine's Day party as he said it would be against his religion to be at an event where alcohol would be served.
James - who was preparing for a trip to Maryland this week - said that having his items returned was like a 'mystical experience' - and that he would be inviting Jalloh to become a member of the arts club, which he would pay for.
He told the New York Times, 'He's just a quiet citizen doing his business, earning his living and respecting his family, and I intend to entertain him and his children and his wife when I return from Maryland.'
© Daily Mail, London