A teenage belly dancer at the heart of the sex scandal involving sleazy prime minister Silvio Berlusconi has revealed how guests were naked at his infamous bunga bunga parties. Moroccan born Karima El Mahroug was only 17 when prosecutors say she was paid by Berlusconi, 74, for sex and given cash and jewellery in return, after attending one of his parties.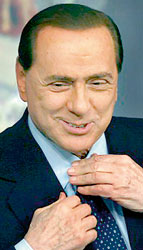 Berlusconi
The media tycoon turned politician is then said to have abused his position as premier by wrongly telling police that Miss Mahroug, now 18, was the grand daughter of Egyptian president Hosni Mubarak and should be freed after she was arrested for theft last May.
Both insist that nothing untoward took place and Ms. Mahroug has claimed that Berlusconi was simply a ''kindly father figure'' towards her and the parties were innocent dinners. However statements leaked yesterday paint a different picture as she told investigators: ''Everyone was naked at the bunga bunga parties and when I was in the police station Silvio was scared.''
Prosecutors are convinced Berlusconi made the call to get her freed because he feared she would reveal details of his parties and how she was just 17 and a minor when she attended them last year between February and May.
Miss Mahroug also told prosecutors she was convinced Berlusconi had sex with lingerie model Noemi Letizia, 20, who was first linked to Berlusconi in 2009 when it emerged he had attended her 18th birthday party.
In her statement she said: ''I have never been to the prime minister Berlusconi's Rome residence but I have been to Villa San Martino (his home at Arcore near Milan) that's where I met Noemi who was known as the apple of papi's (Berlusconi) eye.
'Noemi asked me how old I was and I said 24, she joked with me and said she was Silvio's preferred one. From other girls who were at the party I discovered that there was an intimate relationship of a sexual nature between them.
'I can't tell you exactly who said this because it was something that was doing the rounds with all the girls there with a great insistency.' Ms. Mahroug gave five statements to prosecutors last July and August as part of their investigation into Berlusconi's alleged abuse of office and which form part of the trial against him which opens on April 6.
She revealed how she had been invited to a St Valentine's Day party at Arcore by Berlusconi's best friend Emilio Fede, 80, who presents the main evening news on one of his TV stations. Fede is also being investigated for procuring prostitutes for Berlusconi's parties and met Ms. Mahroug at a beauty contest in Sicily in September 2009 but claims never to have seen or spoken to her since then.
| | |
| --- | --- |
| | |
| Karima El Mahroug, dubbed 'Ruby the heartbreaker' | TV star Barbara Guerra revealed she spent a weekend in a health spa with Berlusconi |
| | |
| Aspiring model Noemi Letizia revealed that Berlusconi had attended her 18th birthday party and promised to help her with a career as a showgirl | Nadia Marci told prosecutors she was provided with marijuana during £9,000 sex sessions with Berlusconi |
Ms. Mahroug described how Fede had called her and picked her up in his chauffeur driven car from her home in Milan and they had then driven to Arcore.'' She said: ''The evening started with a tricolour dinner (Italian flag colours) of white, green and red food and there was music from Mariano Apicella (Berlusconi's singing partner) and he later gave me two CDs.
''After dinner Berlusconi invited everyone downstairs into the bunga bunga room, saying that it was a phrase he had picked up from his friend Gaddafi and referred to a female harem. 'Up until then I had said I was 24 years old and the prime minister then took me into an office where he made it clear to me my life would change if I agreed to take part in the bunga bunga with the other girls.
'He didn't actually specifically say have sex but he certainly made it clear that he was asking to have sex with me: I said no and that I wanted to go home. 'He said he had a present ready for me and gave me an envelope with the words 'For Ruby' and inside there was 46,000 Euro in 500 Euro banknotes.
Prostitute Nadia Marci told prosecutors she was provided with marijuana during £9,000 sex sessions with Berlusconi (left) while aspiring model Noemi Letizia revealed that the PM had attended her 18th birthday party and promised to help her with a career as a showgirl
'He also gave me a Lockman watch which was inscribed ''Thank goodness there's Silvio'' and it had the logo of AC Milan on it as well.' The reliability of Ms. Mahroug's vivid account has been questioned by many including Berlusconi's legal team raising the possibility that there is not enough evidence to convict him of the sex charge.
However, prosecutors have stressed that sexual intercourse does not need to have taken place and even fondling or caressing Ms. Mahroug and paying her would constitute prostitution as she is under 18.
In Italy the age of consent is 14 but if a girl of between 14 and 17 is paid then it is deemed as prostitution and a criminal offence punishable by up to three years in prison.
She added how she had attended several parties at Arcore and said:'During bunga bunga all the girls were naked and I got the sensation they were all trying to play themselves up with sexual acts so they would be noticed by Berlusconi.'
Ms. Mahroug added how the evenings would usually end with all the women guests, usually around 30 or so, all diving naked into the villa's Olympic size swimming pool.' When details emerged that Berlusconi had attended Ms. Letizia's party his long suffering wife Veronica Lario, 52, announced she was divorcing him because she could no longer be with a man who 'associates with minors.'
She also added he was 'ill' without explaining with what and also added that she was further incensed by the fact he had never attended any of their three children's birthday parties.
© Daily Mail, London