If your satnav suddenly sends you the wrong way, don't blame your gadget's irritating electronic voice, blame the Sun. Our star has unleashed its most powerful explosion in four years - and as it slams into the Earth's atmosphere it could play havoc with all sorts of electronics.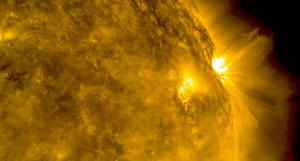 Directed at Earth: The sun has unleashed its most powerful explosion in four years - the X-class flare could interfere with our communications
The X-class flare, one of three solar flares emitted this week, was accompanied by a huge cloud of charged gas. As this hits Earth's magnetic field in the coming hours, experts warn it could disrupt power grids, satnavs and mobile phone networks - as well as producing spectacular displays of solar lights.
The U.S. National Oceanographic and Atmospheric Administration said: 'Ground-to-air, ship-to-shore, shortwave broadcast and amateur radio are vulnerable to disruption during geomagnetic storms.
'Navigation systems like GPS can also be adversely affected.'
The solar storm marks a reawakening of the surface of the Sun, which has been relatively quiet in recent years. The largest of these storms contain thousands of times more energy than the world's entire nuclear energy put together and speed through space at more than 1,250 miles per second.
Some of the most powerful are expected to come our way next year - leading to dire predictions of communications breakdowns and TV blackouts at the time of the London Olympics.
© Daily Mail, London