The secret of success may be a spouse who stands at your side - but keeps out of the way, psychologists claim. Whether you are the Prime Minister, or simply trying to stick to a diet, the best support comes from those who offer practical help without making a fuss.
New research suggests that, contrary to the traditional image, a loving and supportive partner can sometimes get in the way of achieving your goals. The more supportive they are, the more the other person relies on them - and by doing so makes less of an effort themselves, says the U.S. study in the journal Psychological Science.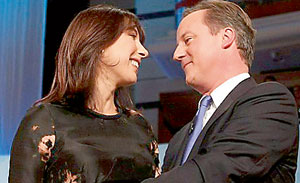 Quiet strength: Experts say it is better to offer unobtrusive help behind the scenes, much Samantha Cameron appears to do for David
Researchers Grainne Fitzsimons and Eli Finkel describe the process as 'self-regulatory outsourcing' - the unconscious reliance on someone else to move your goals forward, coupled with a relaxation of your own effort.
It is most common when someone has a partner urging them forward but can equally apply to friends and family members, they claim. It is better to offer unobtrusive help behind the scenes, much as Denis Thatcher did for his Prime Minister wife and as Samantha Cameron appears to do for the current PM, said Dr Fitzsimons.
'Our study shows there are positive and negative consequences to being supportive, but you can be subtle about it rather than being bossy,' she said. 'For example, you can offer to babysit so your partner can get to the gym or take over the chores before an important meeting, and these contributions make the relationship stronger.'
The researchers came to their conclusions after three online experiments involving 216 people, focusing on the ways partners supported their loved ones.
© Daily Mail, London