Around 3500 athletes of six (6) age categories for Boys and Girls from 19 International Schools are due to compete at the Inter-International Schools Athletic Championships on February 18, 19 and 20 at the Sugathadasa International Stadium from 8 am to 6 pm each day. The meet is being held for the 11th consecutive year.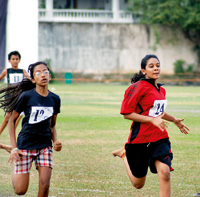 The Inter-International Schools Athletic Championships (ISAC) is the most important co-curricular event in the schools calendar of all International Schools. Lyceum International School, Nugegoda has been entrusted again with the task of organizing the ISAC - 2011 for the fifth year by the Association of Principals of International Schools, Sri Lanka.
The ISAC which commenced in 2001 has presently established itself as a very important athletic competition in Sri Lanka. Since the commencement of this event it has advanced to an extent where many athletes have come up to National level and represented Sri Lanka at International Athletic Championships.
ISAC - 2011 will be conducted under International Amateur Athletic Federation Competition rules 2010/2011, including electronic timing and measurements and in accordance with Association of International Schools regulations.
Events at the meet will be held in the following age groups: Under 7 Boys and Girls, Under 9 Boys and Girls, Under 11 Boys and Girls, Under 15 Boys and Girls, Under 17 Boys and Girls and Under 19 Boys and Girls.
Mr. Mohan Lal Grero, Chairman of the Organizing Committee at the ISAC-2011 and Managing Director of Lyceum International School, Nugegoda, speaking on this athletic meet said that this is a time to renew old friendships and to build new friendships. "Through the true spirit of sportsmanship is the way to to face defeat. Our competitors' aim should be victory at all times by fair means," said Mr. Grero.
The schools participating at the ISAC 2011 are: Alethea International School, Asian International School, Belvoir College International School, British School, Burhani Serendib School, Colombo International School Colombo and Kandy, College of World Education, Gateway College Colombo and Kandy, Leeds International School Panadura, Leighton Park International School, Lyceum International School Nugegoda and Wattala, Oki International School, Royal Institute, St. Nicholas International School, Stafford International School and Wycherley International School.
The championship is fully computerized with web based entries for quick access of updated results over the internet with the latest technology and skills of qualified officials. The organizers are confident that the meet will be transformed to the standard of an international junior athletic meet. The Minister of Economic Development Mr. Basil Rajapaksa will be the chief guest at the closing ceremony on February 20.