Tianjin Medical University is the first medical university established, since the formation of the People's Republic of China. Having a strong foundation and history since its inception in 1951, the University has grown in stature and universal acclaim. It is an ideal University for foreign students as courses are conducted in English.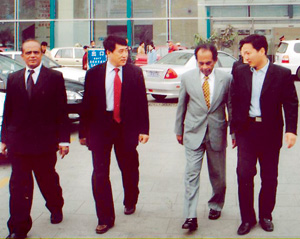 (Left to right) - U W Rogrigo - Managing Director of Sino Lanka Education, Mr. Fen Lin Uo - Dean of Tianjin Medical University, Dr. HHR Samarasighe - former slmc president in a tour to Tianjin
The University boasts of 12 colleges and 4 departments, and offers a range of undergraduate, Master's and PhD courses in all aspects of medical expertise. It also has its own hospitals while also being affiliated to training hospitals elsewhere in China. Accommodation and recreational facilities for students both local and foreign are top of the range.
The opportunity to study at this well established University, and gain a globally accepted degree, was made available to Sri Lankan students through the efforts of SINO Lanka Educations (Pvt) Ltd. Under the guidance of its Founder and Managing Director Mr. U.W.Rodrigo, the Institution has sent over 600 students so far, since 2004. It is the University's sole representative in Sri Lanka.
Mr U.W.Rodrigo is a former government serviceman who has served in several foreign missions across the world. Having worked in China for some years he developed a close working relationship with the education service and more so with the Tianjin Medical University. Following the end of his posting, he formed a Company that would enable him to send deserving and talented students to avail themselves of a wonderful opportunity in education.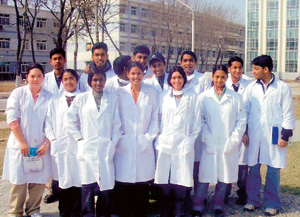 1 first batch of Sri Lankan medical student in Tianjin
Having established SINO Lanka Educations in 2002, the first batch was sent in 2004. Since then there has been no looking back and every year sees a batch of close to 100 students leave for their studies. There are two intakes a year. What makes the Tianjin Medical University worthwhile to Sri Lankan students is that it is one of the seven Chinese Universities recognized and approved by the Sri Lanka Medical Council. In fact it was one of the first such Universities to be endorsed. The University is also recognized by other Medical bodies such as the WHO, IMED, GMC, and AMC.
Following the completion of Undergraduate studies, which is a 5 year programme, students have the option of continuing at the University for their Higher Studies or coming back to Sri Lanka to sit the Act 16 exam. As part of its invaluable services, SINO Lanka Educations sends medical experts in various fields to the University during the vacation to prepare the Sri Lankan students specifically for the Act 16 exams. The students have benefited greatly from this service. SINO Lanka therefore boasts of around 10 complete passes and around 40 referrals amongst its students in the EPRM (Act 16) exam which has a very high pass rate.
Apart from this, SINO Lanka assists students at the onset to obtain their visa's and tickets, conducts pre departure briefings, conducts free Chinese classes which are a great asset during the students' clinicals. Once the students are in China, the permanent team based there will personally assist them through the registration and accommodation process. Medical Facilities are also looked into.
Looking back at the batches that have already completed their studies, some students are already practising in Sri Lanka. This is a matter of great honour in a day and age when Sri Lanka is experiencing a brain drain. SINO Lanka's service, in creating a path for self financed Medical education abroad together with the number of scholarships offered, has certainly seen betterment in the Medical Education field.
The intake for the March batch is currently under way and students, parents and interested parties are welcome to join a seminar followed by interviews and spot admissions that will take place on Sunday February 13 at the Galle Face Hotel from 1.30 pm - 5pm. For more information please visit www.tmulankaedu.com or contact 0773 048384/ 0776 608892. -Shanika Perera