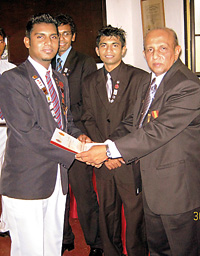 President of the Leo club of Carey College Leo Mohamed Inzar Iqbal bagged the District Governor's appreciation certificate and Token for his leadership, commitment and dedication towards the Leo District 306c2, Sri Lanka.
On behalf of the District Governor of Lions District 306c2 Lion Thilak Perera MJF J.P ,this special Token of Appreciation presented by 2nd Vice District Governor of Lions District 306c2 Lion Gamini Jayasinghe MJF at the "Annual General Meeting "of Leo District 306c2 was held on January 30 at the Lions Club House, Nawala.
Leo Inzar Iqbal was appointed as a member of the Leo District Council 306c2 in year 2007-2008 and as a Council Representative in the district council. Currently he is appointed as District Chief Programme Coordinator in Leo District Council 306c2 for the year 2010/2011. He won the Lions International 100% Leo club President Award this year as well.