Douglas and Sons (Pvt.) Ltd. Sri Lanka's largest importer and distributor of automotive batteries, together with its principals, hosted its battery dealers to an all-expenses-paid holiday to Bangkok this year.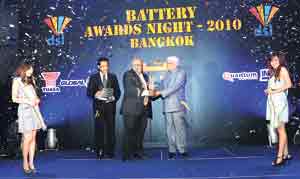 Seen here Bimal Gunawardena, Managing Director, Universal Battery Works, Colombo 8, receiving his award as the 'Dealer of the Year' from the chief guest of the event, Prof. J. B Dissanayake, Ambassador of Sri Lanka to Thailand in the presence of Saroj Perera, Chairman, Douglas and Sons (Pvt) Ltd
Dealers and their families – making up a total of 250 - were given a free holiday by Douglas & Sons (Pvt.) for their efforts in selling DSL's Global, Yuasa, Incoe and Quantum range of automotive batteries.
Saroj Perera, Chairman, DSL, commented, "We are honoured to be able to have this opportunity to reward our dealers in this manner.
They have worked exceptionally hard this year to generate sales amidst the slow economic growth witnessed in the first half of 2010."
The four-day vacation included a luxury cruise, safari tour and a calypso night, apart from the Dealer Convention, sightseeing and shopping trips.