Representatives of leading corporate institutions gained valuable insight into making ETF payments a hassle free online process at the latest awareness programme on 'Paymaster,' an innovative electronic payment mechanism offered by the Commercial Bank of Ceylon.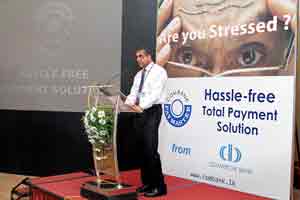 Here Sanath Bandaranayake - Deputy General Manager – Operations of Commercial Bank delivering his speech.
More than 100 participants were given hands on experience on using the application at this workshop conducted at the Taj Samudra Hotel, Colombo recently. The range of benefits offered by the web based application was also demonstrated at the event. These include the minimisation of transaction time, costs and risks associated with the physical handing of money and the ability to make virtually any type of payment to multiple recipients by uploading a file to Commercial Bank's web platform, the bank said.
Employees Trust Fund Board members including Chairman K. M. A. Godawatte, Additional General Manager M. C. H. Gunaratne, Deputy General Manager J. M. S. B. Udugama were present. Ms. R. Dheerasinghe who is the Superintendent of Employees Provident Fund Department also attended the workshop.
"These workshops have made it possible for our customers to keep abreast of the latest developments and get a comprehensive understanding of this unique facility," Commercial Bank's Deputy General Manager – Operations Sanath Bandaranayake said.
The Paymaster service enables virtually, instant transfer of funds between parties maintaining accounts at Commercial Bank. There are no limits to the number of transactions and any number of payments can be accommodated in a single file sent to Paymaster. The popularity of the facility has lead to its widespread use and more than 1300 corporate clients use it at present, the bank said.