CMA was admitted to Associate Membership of IFAC at the 2010 IFAC Council Meeting held during the World Congress of Accountants 2010 in Kuala Lumpur, Malaysia, the institute said.
IFAC is the World Accountancy Body consisting of 125 countries and a membership comprised of 164 member bodies with a total membership of more than 2.5 million accountants in public practice, education, government service, industry and commerce.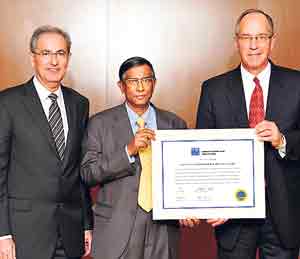 Seen here Prof. Lakshman R. Watawala, President of CMA Sri Lanka (centre) with Robert Bunting, Past President of IFAC holding the IFAC certificate along with Dr. Ian Ball, CEO of IFAC.