The 7th Annual South Asian Economics Students' Meet (SAESM) - an annual regional 'mini economic summit' - was held in Colombo for three days last week with the participation of economics undergraduates from the University of Delhi, University of Dhaka (Bangladesh), Lahore University of Management Sciences (Pakistan), Tribhuvan University (Nepal) and the University of Colombo.
It was hosted by the Development Resource Centre of the Department of Economics, University of Colombo in partnership with the Friedrich Naumann Foundation and also with other co-sponsors of the event.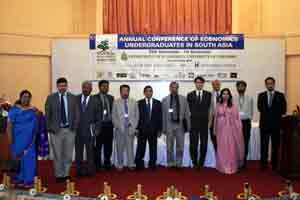 Country coordinators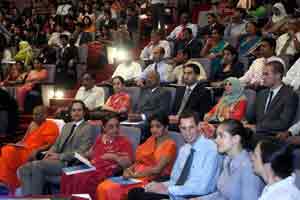 A participant asking a question
Jens Plotner, Ambassador of the Federal German Republic in Sri Lanka speaking at the inauguration of SAESM as Chief Guest said that regional economic corporation and integration is totally different from regional political integration. He said that this integration is one of the important philosophical principles adopted by the European Union.
He said that fostering regional cooperation at a grass-roots level is the appropriate answer to a globalized world growing ever closer and said that no country could live alone, up to the demands of the time, today. He said that therefore cooperation is paramount whether it is between individuals or nations.
Mr Plotner said that he is convinced that cross-cultural networking would strengthen students' ability to understand the challenges that they as individuals and as members of developing societies face.
One of the core problems in the regional cooperation and regional integration is the inequality of size in countries, in comparison to countries such as India, Pakistan and Bangladesh and indicated that there is a huge difference and this inequality is an obstacle to regional integration and cooperation.
He said that in the European Union there are huge discrepancies among countries like Luxembourg and Belgium, but said that still the EU works very well. He said that his own country Germany is a large country and could stand alone, but they too work well irrespective of the size within the Union.
The keynote address was made by Dr Susan Razzaz, Senior Country Economist, World Bank Sri Lanka, while Ms Sagarica Delgoda, Country Representative, Friedrich Naumann Foundation and Prof Kshanika Hirimburegama, Vice-Chancellor, Colombo University addressed the inaugural session among others.
Prof Sirimal Abeyratne, Sri Lanka Coordinator, SAESM, University of Colombo introducing the programme said that this opportunity for South Asian regional university economic students is not only for enhancing academic capabilities but also to share views and to build networks in the region.
He said that the SAESM 2010 is held in Colombo for the second time, the first time in 2007 and has been made possible with the institutional support of the University of Colombo and the Friedrich Naumann Foundation together with the contributions from John Keells Holdings and their other co-sponsors.
The "Budding Economist Competition" is a key element of this annual meeting and after three competitive rounds, Keshv Parthasarathy from the University of Delhi won the award as the Budding Economist for 2010.