The Budget has come and gone and more knowledgeable people than I have commented on it. I do not propose to add to what has been said. There is one Budget proposal however that I feel compelled to comment on. In our President's first Budget (in 2006) he introduced a tax that had the singular virtue of being developmental in nature while causing no pain.
The Deemed Dividend Tax (DDT) that Treasury Secretary Dr P.B. Jayasundera drafted was designed to persuade boards of companies to increase their dividends to a reasonable level. It was not a revenue raising measure because no one became liable to it if he paid a reasonable dividend. The President started his introduction of the subject by saying that good companies pay 50 % of their distributable profit as a dividend. He was influenced by the example of companies like John Keells and the NDB that had even exceeded that figure.
Dr PBJ's version of the DDT was mild in the extreme. A company became liable to it only if it paid a dividend less than 25% of its distributable profit after making allowance for its capital expenditure. Having done so the tax was a modest 15% of the difference between the amount paid as dividend and 33 1/3 % of its available distributable profit (after deducting capital expenditure). This was substantially less than the Deemed Dividend Tax that was already a part of the Inland Revenue Act. That tax was applied on the entire profit of the company and the rate of tax was the highest rate of personal tax which was about 35% at the time. That tax was applicable if an assessor felt that the dividend declared was unreasonable. The main reason why that Section was not implemented vigorously was that there was no definition of what was reasonable.
The President's new DDT was meant to induce larger dividends that would in turn give a boost to the share market. It succeeded in doing just that and shareholders got a better deal while very few companies let themselves become liable to it. That is why it was unique in aiding development while causing no pain.
However when it was introduced in 2006 there were the usual screams of protest from companies that had been oppressing their minority shareholders by declaring minimal dividends. The auditors of those companies added their protests at seminars on behalf of their clients, singing stridently for their supper. I recall a senior banker protesting loudly that the tax would result in disaster for the banks that would not be able to expand in future because of the need to pay larger dividends if they were to avoid paying the DDT.
This total exaggeration was made despite companies such as John Keells expanding without any difficulty while paying generous dividends. If a company lacked resources for the expansion that it considered necessary, it had only to raise funds by rights issues, debenture Issues or bank loans. That is exactly what has happened ever since 2006.
In the light of the actual experience of companies I was therefore astonished to learn from the 2010 Budget speech that the threshold for the application of DDT was being reduced from 25% of distributable profits to 10% 'in the interests of Development'. Some interested parties appear to have misled the Ministry of Finance into thinking that the DDT had inhibited expansion. That this is a complete falsehood becomes evident from the table below where I have shown that companies have been able to declare dividends of more than 30% of their available profits (sometimes as much as 100%) without inhibiting their expansion.
When it is borne in mind that Capital Expenditure is deductible before DDT becomes applicable, the utter falsity of the claim that DDT has inhibited capital expenditure (development) becomes evident. What is very disappointing is that the Ministry of Finance has succumbed to lobbying that had no basis in fact. A little bit of verification would have revealed the truth. Most companies have avoided paying DDT by the simple expedient of increasing their dividends. That was what was supposed to happen. The few companies that have preferred to pay DDT to government than larger dividends to their shareholders have been motivated by their unwillingness to pay Dividend Tax.
They have usually been family owned companies where the majority shareholders prefer to avoid paying Dividend Tax by minimizing their dividends. They are not concerned with the fact that they are depriving minority shareholders (the public who foolishly invested in their companies) of reasonable dividends. They probably find means of compensating themselves for the dividends they are foregoing. They can do so with ease because they are in control of the operations of the companies and the preparation of the accounts.
My advice to the Government is to restore the DDT to its original level. If it is the desire of the Government to make Sri Lanka a Financial Hub for South Asia it should do everything possible to give the share market a boost. Restoring DDT to its original level will inevitably result in larger dividends. That can only give a boost to the share market and increase revenue through Dividend Tax. From a political angle the Government will earn the gratitude and goodwill of thousands of minority shareholders which would more than compensate for the resentment of a few rapacious chairmen.
(The writer is a retired chairman of many private sector companies)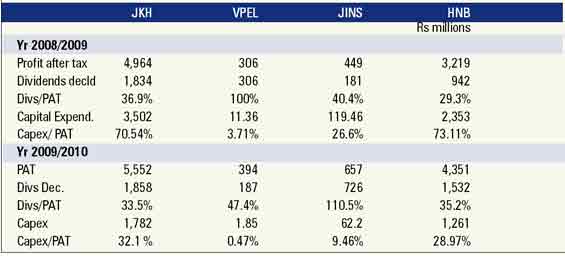 Companies: John Keells Holdings (JKH), Vallibel Power Erathna (VPEL),
Janashakthi Insurance Co. PLC (JINS), Hatton National Bank PLC (HNB)