RE-NEW STATION, a division of ABC Trade and Investments (Pvt) Ltd. engaged in professional ink / toner cartridge recycling and which introduced the printer cartridge recycling process for the first time in Sri Lanka, has signed a Memorandum of Understanding (MOU) with the Central Environment Authority in an e-waste management co-operation project.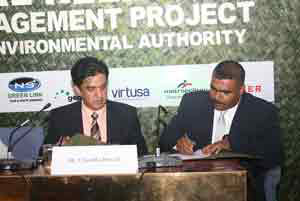 Picture shows CEA Chairman Charitha Herath (left) and ABC Trade and Investments (Pvt) Ltd. Director CEO A. Jayaseelan signing the MOU in Colombo.
Under this project, the company will collect used and empty computer printer ink cartridges and toner cartridges by placing a special bin at private and state sector institutions. All these collected cartridges will then be recycled, the company said.
ABC Trade and Investments (Pvt) Ltd. Director / CEO A. Jayaseelan explaining the motive of this initiative, said: "Most of the institutions regularly discard their used computer ink cartridges and toner cartridges which is a waste of money and hazardous to environment. In our project, we are focusing on reducing e-waste while protecting the environment and saving considerable amount of money to the consumer by reusing"
He said that by recycling used ink/toner cartridges there is a huge protection of the environment as it takes four gallons of fossils oil to manufacture a single cartridge and over 300 years to biodegrade.
"Re-manufacture enables us to reuse the same cartridge multiple times and prevents wastage of natural resources and landfill, as a developing country Sri Lanka too saves by way of reduced foreign exchange spending," he said.
Central Environmental Authority (CEA) Chairman Charitha Herath said e waste is rapidly expanding with the steady growth of new technology and the extensive use of computer and electronic equipment. The CEA is collaborating with 14 private sector parties on launching the programme on e-waste management.