An IMF mission that was in Sri Lanka for the past 10 days was due to leave at the weekend, officials said.
The team, led by Dr. Brian Aitken, Chief, IMF SBA (Sri Lanka Standby Arrangement) Review Mission, met several officials during their trip aimed at the 5th review of the $2.6 billion facility.
The last instalment received by Sri Lanka was two months back with the 5th tranche of $212.5 million. So far a total of $1,275 million has been provided to the Government.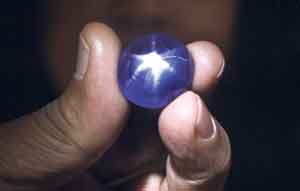 Fit for a Lady!
A salesperson holds an exotic gemstone at the International Gem and Jewellery exhibition in Colombo on Friday at the BMICH. The show ends today. Pic by J. Weerasekera