Monday's attack by a pack of goons on the Sirasa /MTV media network's head office, that took place in broad daylight in the heart of the city, has been followed by the usual round of condemnations by government representatives. The complete impunity with which a motley assortment of men arrived at Braybrooke Place, Colombo, in an SLTB bus, casually took aim and proceeded to hurl rocks continuously at the offices of a respected and popular media network, has left many people flabbergasted. The assault caused considerable damage to buildings and vehicles, and injuries leading to hospitalization of a few employees.
The government's version of the incident is disingenuous at best. According to the Director of the government's Media Centre for National Security Lakshman Hulugalle, the violence was sparked off by an altercation between the security personnel at the Sirasa/MTV office and a group of protestors who came there to hold a 'peaceful demonstration' against the media network's sponsorship of a visit to Sri Lanka by the pop musician 'Akon.' ("Both sides had thrown stones at each other"). Is it suggested here that 'both sides' were to blame? If so it would appear that Sirasa has some strange unnatural powers, to be able to summon its enemies to its own address in order to attack them!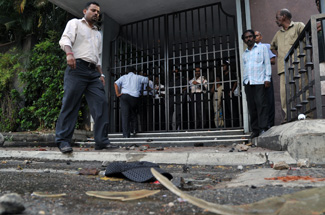 Also quite bizarre is the idea that this ugly display of lawlessness was carried out by persons outraged by a video clip by 'Akon' that is believed to have offended their religious sensibilities. Nobody who respects Buddhist values would stoop to such behaviour, which could more accurately be described as the very antithesis of what the Buddha taught. Mr Hulugalle's statement that the Jathika Sangha Sammelanaya had claimed responsibility for the 'protest' was contradicted by the JSS, who went on air Thursday along with the Jathika Hela Urumaya, to deny any involvement in the episode. The entire episode was recorded on the static cameras of the Sirasa office complex positioned at the entrance to the buildings.
These images would have been seen by thousands who watched the network's news bulletins in all three languages. While there was an unnecessary element of dramatization introduced by Sirasa in the repeat broadcasts of this footage, this did not undermine the stark visual evidence it represented, as to who was attacking whom. A Sirasa /MTV spokesman did go on air to say that staff members had thrown back stones that had been pelted at them, in self defence. He said repeated phone calls had not yielded a swift response from the police, who arrived late. After they arrived, 16 suspects were arrested, all of whom were released on police bail the following day.
Those who watched this drama on TV would have noticed there was hardly any resistance from the suspects in the process of being arrested – almost as if they knew they had nothing to worry about. They would have noticed the difference from some other arrest scenes they witnessed on TV not so long ago where, in various towns, demonstrators sympathetic to Sarath Fonseka were taken away literally kicking and screaming.
According to reports on the case which was taken up before the Colombo Fort Magistrate on Wednesday, all of the 16 suspects released on bail were residents of Kelaniya and surrounding areas (Kadawatha, Kiribathgoda). Sirasa for their part solicited information from the public and offered cash rewards for information on the attackers seen on their TV footage. Within days they named several of them, identifying some as Kelaniya Pradeshiya Sabha members. Their coverage of the incident also showed a Kelaniya depot name-board on the state transport board bus on which the thugs arrived.
Kelaniya is the 'home base' of a government Minister well known for his hostile confrontations with the media in general, and Sirasa in particular. Several news reports linked the incident with this 'Minister from Kelaniya' who is notorious for his track record of thuggery directed against the media. But government spokesmen have publicly denied any government involvement in the attack. And of course, an investigation has been promised. Does this all sound familiar?
With the campaign on for a parliamentary election, the bad press surrounding this latest attack on media is not exactly the kind of publicity President Mahinda Rajapaksa would want to be associated with his government. This incident has taken place within the context of an upsurge of intra-party violence within the UPFA. The state of party indiscipline was all too obvious at a recent rally in Kandy where a shameful "booing incident" occurred while the President himself was on the stage.
It is encouraging that the President has asked the IGP to report to him directly on the Sirasa incident. But he also needs to demonstrate clearly, for all to see, that he will not tolerate thuggery and hooliganism by members of his party, no matter whom it is directed against.
If he does not do this, he leaves room for suspicions that such elements are tolerated within the government because they serve a useful purpose – of acting as the 'cat's paw,' unashamedly taking the rap for 'taking care of' perceived enemies. People will surely express their distaste for such unworthy candidates at the upcoming polls.
The writer is a senior freelance journalist