Foreign monitors including members from the European Union (EU) have been left out of the election monitoring process amidst allegations by the main opposition UNP that the Commissioner of Elections has failed to forward the invitations in time.
The Elections Department yesterday confirmed that no foreign monitors had been invited for the monitoring process. European Union Ambassador Bernard Savage told the Sunday Times the EU had not received an invitation to send monitors for the April 8 poll.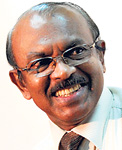 Dissanayake
"We were made to understand that as there was no unanimity among the political parties an invitation was not extended," he said. Deputy Elections Commissioner A.W. Sumanasiri told The Sunday Times that political parties had shown little interest in getting the EU monitors and their request to invite EU monitors came at the last moment.
A spokesman for the department said that during the Presidential elections though an Asian monitoring group was invited, this time they too were not being invited. He also claimed political parties did not show any interest in getting foreign monitors.
But, the main opposition United National Party yesterday disputed these claims and criticized the Elections Commissioner for failing to invite EU monitors. UNPs General Secretary Tissa Attanayaka said the Commissioner at his first meeting with political party representatives early this month had told them that he wanted bring down five EU monitors and sought their opinion on it.
"I readily agreed and told him to go ahead. None of the party representatives objected to this plans," he said. Mr. Attanayaka said he had also made the request in writing to invite EU monitors.
However at the next meeting held on March 17, the issue had come up again and the Commissioner had blamed the political parties for failing to inform him about inviting the EU monitors.
"At the second meeting the Commissioner claimed that there wasn't sufficient time to invite the EU monitors and therefore it was too late invite them," he said.The issue did not figure at the last meeting held on Friday.