With less than two weeks to go for the April 8 Parliamentary general elections, candidates are turning up the volume on their separate calls for change as they make their way along the campaign trail. Speaking to the Sunday Times, a number of candidates insisted that the country was in dire need of change, and that a number of pressing issues awaited urgent action.
Topping the list of grievances were the high cost of living; rampant corruption; poorly administered education and healthcare; threats to civil liberties, and overall failure in the rehabilitation of internally displaced persons (IDPs).
Contesting for Vavuniya district, Dharmalingam Siddarthan, leader of the Democratic People's Liberation Front (DPLF), the political wing of the People's Liberation Organisation of Tamil Eelam (PLOTE), says his post-poll agenda includes securing the release of persons detained by the government for alleged links to the Liberation Tamil Tigers of Eelam (LTTE). Here are highlights from our interviews with several of the election candidates.
Focusing on women's issues - Kokila Gunawardena : UPFA Gampaha district candidate
I am carrying out my campaign without making any false promises. I think voters are intelligent now and they would not get fooled by false promises anymore.
They are aware of the limitations of what a Member of Parliament (MP) can do for them and they accept this fact and vote for people who speak the truth, I am focusing on issues that affect women in particular.
In my six months in the Provincial Council, I have used the funds allocated to me to train 700 women in self-employment ventures.
My aim is to join with the government of President Mahinda Rajapaksa and broaden self-employment opportunities for women. I believe that if a woman can stay at home and earn Rs. 5,000 to Rs. 6,000 a month it is better than earning Rs.15,000 a month by going out for work.
We will secure three seats - S.Kishore: UPFA Wanni district candidate
This time I am contesting from the UPFA because the TNA did not give me and 13 others nominations from the party. So I had no choice but to contest from the UPFA.
I did not leave my district even during time of war and go abroad but I stayed back and worked for the people. I was instrumental in the setting up of a separate university which will be opened soon in Vavuniya.
The 11,000 LTTE cadres who have been rehabilitated will be handed over to their families while the others will either be released or charged in cases where there is credible evidence against them.
There is also much resettlement work to be done and I will assist in this aspect as well. I am confident we will secure three seats from the district including one bonus seat.
Restoration of people's rights our aim - Jayantha Silva: UNP Colombo district
"The UNP campaign is centered on the restoration of the democratic rights of the people. The main concerns among the voters are they lack freedom and are unable to express their views freely any more and live in fear of reprisals if they do so.
When the UNP comes into power, all this will change and we will guarantee freedom for the people as well as the media.
Also the problem of housing is acute in the Colombo district. It was during the time of President Ranasinghe Premadasa that the people were given houses but today three to four families live in the same house.
The UNP has a good chance of securing a victory in the district. People know it is only the UNP that can make a positive change in their lives.
I can achieve more through UPFA - Dilrukshi Sooriyarachchi, UNP candidate who now supports the UPFA
Dilrukshi Sooriyarachchi, widow of the late Member of Parliament Sripathi Sooriyarachchi, may well have scored a first in Sri Lankan political history in her move, as an official election candidate for the United National Party (UNP), to campaign instead for the rival United People's Freedom Alliance (UPFA) at next week's general election.
Mrs. Sooriyarachchi met President Mahinda Rajapaksa earlier this month and pledged her support for the UPFA, although her name is on the UNP nominations list for Gampaha district.
In an interview with the Sunday Times, Mrs. Dilrukshi Sooriyarachchi explained what had led her to switch her loyalties to a rival party, and what she hoped to accomplish by entering politics.
Her private secretary, Dr. Prema Weeraman, was present at the interview to assist Mrs. Sooriyarachchi in her answers.
"My name is on the UNP nomination list, but I will not be contesting at the upcoming election. I will be campaigning for Presidential advisor and UPFA candidate Basil Rajapaksa," she said.
Mrs. Sooriyarachchi said there were a number of reasons behind her surprise decision to back the UPFA, one being the fact that she had been sidelined by the Sri Lanka Freedom Party – Mahajana Wing (SLFP-M), of which her late husband was a key figure.
"After my husband's death, I remained with the SLFP (M) party for about one-and-a-half years, although I was largely ignored by the party, despite being their Gampaha district organiser," she said. Mrs. Sooriyarachchi said Basil Rajapaksa had called on her and made a request that she support the UPFA at the election.
"It was my decision entirely to support the UPFA," she said. "Most widows of politicians who enter politics do so to continue their husband's party policies. In my case, I feel I am doing the right thing on behalf of those who were for Sripathi, those who voted for him in the past.
"We have a good vote bank in Gampaha district, although my late husband contested for the Kelaniya seat. In fact, a number of UNP and SLFP-M supporters have urged me to campaign for Mr. Rajapaksa."
Asked whom she would support if she were chosen as a UNP Parliamentarian, Mrs. Sooriyarachchi said she would sit with the UPFA MPs and continue to support the UPFA.
"I am sure that if I contested, I'll be elected to Parliament. But it is a pleasure to campaign for someone I consider an ideal candidate for our district." Mrs. Sooriyarachchi's said the empowerment of women and the speedy development of Gampaha were her two main expectations.
"In the past, a lot of development projects were launched in Gampaha but not completed. Now, however, we see major programmes under way. Meanwhile, thousands of women in Gampaha are having a difficult time, with economical, social and emotional concerns. These are issues I would like to address during my political career."
Mrs. Sooriyarachchi said she still received letters from supporters of her late husband. They come to her seeking her help on various matters, ranging from power supply and job opportunities to drainage and garbage problems. She said she believed she could address these issues more effectively from within the UPFA.
The late Sripathi Sooriyarachchi – Parliamentarian, Cabinet Minister and lawyer – was killed in a road accident at Madagama, in the Galgamuwa area, on February 9, 2008. The fact that the accident occurred exactly one year after he was stripped of his ministerial portfolio led to speculation about the circumstances of his death. Mrs. Sooriyarachchi, however, believes it was a genuine accident.
Mismanagement at every turn - Srinath Perera, UNP, Colombo district
"The main focus of our campaign is the cost of living and good governance. The people are suffering as a result of this government's mismanagement. It has no sense of direction and no proper economic policies.
"It is the ordinarily people who are suffering, not those who are governing this country. We have to stop all this before there's a complete breakdown in law and order and the economy hits the doldrums.
"One of the most progressive pieces of legislation enacted in recent years is the 17th amendment to the Constitution, but the Constitutional Council has not been set up.
The Bribery Commission's term is about to lapse and that would mean an open licence for the corruption to continue. In the absence of a Police Commission, the Police Department has become highly politicised.
"It is vital for our people's survival that they change this government. If there's no change, the people will realise within a year that they've made an irreversible mistake by re-electing this government."
Even SLFP supporters are shocked at the way the General is being treated - Vijitha Herath, Democratic National Alliance (DNA), Gampaha district
"Our main focus is to draw the people's attention to the way democracy has deteriorated in the country and how media freedom and political rights have been threatened.
"We are also focusing on the unlawful detention of General Sarath Fonseka and telling the people that if this government can treat a war hero in this manner, then it will treat the people of this country in a worse manner. Even SLFP supporters are shocked at the way General Fonseka is being treated, and they are speaking out about it.
"In the Gampaha district, the President's brother Basil Rajapaksa is a candidate and election laws are being violated, including the abuse of state resources. Candidates traditionally from the area have been displaced by candidates who are trying to buy votes.
"The same goes for the ministers seeking re-election in the district. But the people of Gampaha are not fools. They know they are being offered gifts in exchange for their votes."
Thousands waiting to go back home and rejoin parents and spouses - Dharmalingam Siddarthan, Democratic People's Liberation Front (DPLF),Vavuniya District
Dharmalingam Siddarthan, 61, leader of the Democratic Liberation People's Front (DPLF) contesting from Vavuniya, said his priority was to resettle the displaced and secure the release of persons detained for alleged links with the LTTE.
"There are large number of parents and spouses whose children and husbands are being held in detention camps. Most of these detainees were forced to join the LTTE. There were also thousands of displaced persons waiting to back to their homes.
"For a political settlement, all parties should sit together and agree on a single proposal. There should be a reasonable proposal and it should be implemented right away."
Mr. Siddarthan was elected to Parliament in 1994 and returned to Parliament for a second time in 2000, but lost his seat in the 2001 and 2004 elections. He is confident he will gain at least two seats in the district, and that six members will be returned to Parliament.
Traditional homeland and self-determination our theme - Illangai Tamil Arasu Kachchi (ITAK) – Jaffna districtKandaiah Velupillai Sivagnanam
Kandaiah Velupillai Sivagnanam (70) said the theme of his party's campaign is 'thayagam', that means 'traditional homeland' and the other, of course, is self-determination.
As we campaign the main problem we face is intimidation, mostly from the UPFA candidates and supporters, he said. "There is a stir??? in the voting pattern and thinking but I think it will settle down by the 5th or 6th next month, because by then people will come to know that some of the independent groups contesting are fakes.
At the end of the day people will come to realise that those groups are not interested in the Tamil community, but are interested in making some money. They have no policy and ultimately we will have our day," he said.
"I am not sure about who is funding them, but they seem to be funded by unknown funding agencies who are politically interested," he said. He said in the last Parliament the ITAK had eight out of nine members and this time there was confidence that at least seven members would be returned.
Commenting on the issues in the region he said "there are thousands of people who have not been settled. They must be settled in their own homes and they must be provided with necessary assistance to start their livelihood. They should be provided with at least the minimum requirements. They are not provided with any at the moment. We first have to look after resettlement and then we have to think about development which has been neglected for the last 30-40 years."
On a political settlement he said his party would go ahead with a non-violent campaign.
Two-thirds majority an open threat to democracy - Maithri Gunaratna, UNP, Galle district
"We are conducting a village-level campaign, meeting people in small groups of 15 to 20. We are telling them about the dangers of re-electing the present government, which is trying to get a two-thirds majority in the general election. But the government is already behaving as if it has the power of a two-thirds majority. If the two-thirds becomes a reality, we will have to bury what little democracy we have and give up all our civil liberties.
"Despite years in power, this government has done nothing for the South. The Matara-Colombo highway was begun eight years ago and is still not complete. Promises to bring down the cost of living once the war ended still remain promises.
Our health and education sectors are collapsing, while government politicians who have earned millions by corrupt means are spending staggering sums of money on their election campaigns. Our towns and villages are inundated with these politicians' cut-outs and posters, all produced with ill-gotten money.
"We face many hurdles conducting our campaigns in our areas. The police turn a deaf year to our complaints and the election officials are helpless. But we are somehow dealing with these problems and pressing ahead with our work."
It's a bath, pol and lunu state of affairs - Buddhika Pathirana, UNP, Matara district
"Our campaign in Matara is focused on the cost of living and the breakdown of the education and health sectors. We go to the market with Rs. 150 and all we can buy is one kilo of rice, one coconut, and a packet of salt. In other words, we can expect no more than "bath, pol and lunu" for our meals. It is cheaper to buy a packet of lunch. And the education and health sectors are in a mess.
"Opposition candidates in Matara have a hard struggle keeping their campaigns going, but we are up to the challenge. It is too bad that lots of lies are being circulated. There's a rumour that I will cross over to the government side if I win a seat in Parliament. This is an utter falsehood, meant to tarnish my image. Those who cross over are the worst kind of traitor, and should be rejected by the people.
"I am confident we'll win not only Matara district but all other districts. I am confident we can form the next government and appeal to the people to vote for the UNF to ensure their rights are protected and their living standards will get better."
Post-war resettlement a rankling issue - Arasaratnam Sashitharan, UNP, Batticaloa district
Arasaratnam Sashitharan, 56, a member of the Eastern Provincial Council, says the main issues for voters are the cost of living, the lack of jobs, and the failure to develop the Batticaloa area.
Mr. Sashitharan accused the government of fielding a large number of independent candidates in the district in a bid to steal votes from the UNP and the Tamil National Alliance (TNA), but added that he was confident of getting the highest number of votes in the district.
"There are some 360 candidates for the eight seats in Parliament, and almost every AGA division has a UPFA candidate. This is an attempt to take votes from the UNP and TNA."Mr. Sashitharan told the Sunday Times the UNP should be able to secure two seats in Batticaloa. He said Muslim candidates were distributing dated cheques in villages and making all manner of promises.
"They are asking the villagers what they want and giving them cheques dated April 10, two days after the election. They are spending millions. We don't know where the money is coming from. The average candidate does not have that kind of money to spend.
"One rankling issue is post-war resettlement. It is not being done properly. For example, persons resettled in Pullumallai have been given only seven or eight tin sheets so far. The main irrigation tank has not been repaired and the residents cannot get on with lives.
Armed groups continue to operate in the area, he says, adding that the police have admitted that not all armed cadres have been disarmed.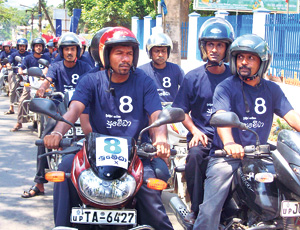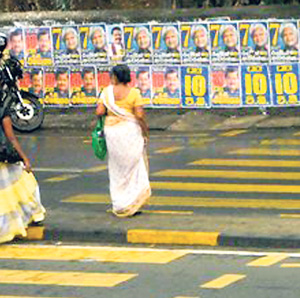 Election laws continue to be violated as these scenes captured in Moneragala (Top) and Kurunegala (Bottom) show. Pix by Sumanasiri Gunethileka and Pushpa Weerasekera