A new General Court Martial (GCM) to hear charges of fraudulent military deals against retired General Sarath Fonseka is to comprise Major General Milinda Peiris (President), Major General Lalith Daulagala and Major General Mahinda Hathurusinghe.
Their formal appointment, the Sunday Times learns, now awaits the signing of a Convening Order by President Mahinda Rajapaksa, who is Commander-in-Chief of the armed forces.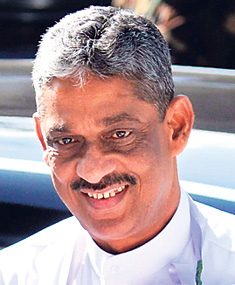 Gen. Fonseka
Major General Peiris is Commandant of the Kotelawala Defence Academy, whilst Maj. Gen. Daulagala is Security Forces Commander (South) and Maj. Gen. Hathurusinghe is Security Forces Commander, Jaffna.
They will replace a three-member General Court Martial appointed earlier to hear allegations in two different charge sheets against retired General Fonseka.
Charge Sheet 1 relates alleged political activity the former Chief of Defence Staff (CDS) had engaged in whilst serving in office. This is by making contacts with two former United National Party (UNP) parliamentarians. Charge Sheet 2 deals with alleged fraudulent activity involving a company where his son-in-law Danuna Tillekeratne was a key player.
Earlier, one General Court Martial was appointed to hear both charge sheets. It comprised Major General Harsha Weeratunga (President), Major General Lalith Wijetunga and Major General Aruna Jayatilake. Maj. Gen. Weeratunga is Director General, Financial Management at Army Headquarters. General Wijetunga is Quarter Master General and Maj. Gen. Jayatilake is Commandant of the Sri Lanka Army Volunteer Force (SLAVF).
The GCM met on March 16 to hear allegations on Charge Sheet 1 and adjourned sittings until April 6. However, the second GCM did not convene the next day, March 17. They adjourned abruptly on the grounds that it would have to obtain instructions from the convening authority – President Rajapaksa.
The Sunday Times learns that conflict of interest prevented the second GCM from conducting proceedings. Two of the members, Maj. Gen. Weeratunga (President) and Maj. Gen. Wijetunga, had sat on Tender Board meetings that were chaired by then Commander of the Army, Gen. Fonseka. They had done so in their official capacities.